Syria: Lord Carlile urges return of control orders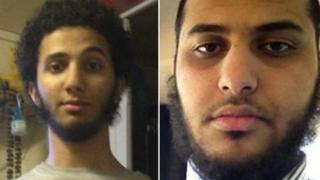 The UK should reintroduce tougher measures to restrict terror activities, a former independent reviewer of terrorism laws has said.
Lord Carlile said the government needed to act to protect the public.
His call comes as an ex-MI6 director said security services would not be able to track all Britons who return to the UK after fighting in Syria.
The Metropolitan Police has insisted it has the tools to monitor British jihadists returning from that country.
Several Britons - including Reyaad Khan and Nasser Muthana from Cardiff - have featured in an apparent recruitment video for jihadists in Iraq and Syria.
Nasser Muthana's father, Ahmed Muthana, told the BBC his younger son, 17-year-old Aseel, had also gone to Syria.
The BBC has learned a third Briton in the video is from Aberdeen. The man, named locally as Raqib, grew up in Scotland but was originally from Bangladesh.
This coincides with claims from Labour MP Khalid Mahmood that up to 2,000 Britons may have been recruited by extremists.
Former MI6 director of global counter-terrorism Richard Barrett has said security services would be unable to monitor all of the Britons who had fought in Syria when they returned.
He said the number of those posing a threat would be small but unpredictable.
Lord Carlile said Mr Barrett was "absolutely right" in his claims and that the UK "should be worried".
"The evidence is that up to 10% who go on jihad will return to this country and be interested in domestic terrorism," the Liberal Democrat peer told BBC Radio 4's World at One programme.
"It's impossible to provide surveillance for that number of people. So we need to look at preventing violent extremism before people leave the country and also we need to look for further measures."
Lord Carlile suggested reintroducing "something like control orders", which were scrapped in 2011 and replaced with the less restrictive Terrorism Prevention and Investigation Measures (TPims).
Control orders were much more restrictive, giving authorities power to relocate suspects to towns far from their home, impose 16-hour curfews and ban them from meeting named individuals and using mobile phones and the internet.
As with TPims, those subject to control orders had to wear electronic tags and report regularly to the police.
TPims restrictions include overnight residence at a specified address and restrictions on travel, movement, association, communication, finances, work and study.
However, the Met has rejected Mr Barrett's claims and insisted it does have the power to monitors fighters returning to the UK from Syria.
Assistant Commissioner Cressida Dick told the BBC a large number of people have been either stopped from travelling to Syria or held on their return.
Police have urged Britons not to travel to Syria to fight.
They warned would-be jihadists they were likely to be killed or kidnapped if they took part in the conflict, or were likely to be arrested if they returned to the UK.
Usman Nawaz, a former member of the Young Muslim Advisory Group, described as "incredibly disturbing" a video posted by internet accounts linked to the Islamic State of Iraq and the Levant (Isis) - which has a presence in Syria and is fighting government forces in Iraq.
He told the BBC it was "extremely worrying" that young British Muslims were appealing to their peers with a "rosy, romantic HD picture of jihad".
The news that two of the Britons in the video are from Cardiff prompted claims from academic Dr Suraj Lakhani that there was an ongoing problem with the radicalisation of young Muslims in the Welsh city.
Meanwhile, Chancellor George Osborne has rejected suggestions that the monitoring of returning fighters would be hampered by a shortage of funds.
He said: "I don't think it's a question of the money, because we've not only protected the counter-terrorism budget, we've increased funding for the security services."
Have you been affected by the issues raised in this story? You can send us your experiences by emailing haveyoursay@bbc.co.uk using the subject line "Isis".