'National roaming' plan to tackle mobile phone blackspots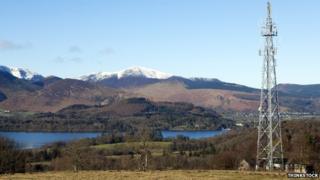 Mobile phone operators could be made to share their networks in rural areas of the UK where signals are weak under plans being considered by ministers.
Some parts of rural Britain have just one or two of the main mobile phone networks available, or none at all, leaving some people without any signal.
It is hoped so-called national roaming could be used to plug blackspots.
However, mobile phone companies say this would remove their incentive to build more masts to improve coverage.
New Culture Secretary Sajid Javid wants mobile phone companies to introduce national roaming which would allow customers to switch to an alternative network if their own was not available, as happens when they are abroad.
A spokesman for the Department for Culture, Media and Sport (DCMS), which oversees telecommunications, said the government was already spending £150m in areas with no coverage and was looking at doing more.
'World-class coverage'
A mobile phone industry source told the BBC the government might be able to force the big operators to share their networks using existing legislation.
But the companies are likely to argue that national roaming will be a brake on their investment because there will not be an incentive to build new phone masts in remote areas if the service has to be shared.
They have also warned there would be costs involved in such a scheme which could result in higher charges for consumers.
Mobile operator Three insisted it was widening its coverage.
A spokesman said: "We've invested heavily to bring coverage to around 98% of the population.
"We support the principle of expanding coverage to address areas less well served and are in discussions with government about the most effective means to deliver that."
A DCMS spokesman said: "The government has made clear it wants to ensure the UK has world-class mobile phone coverage as part of our investment in infrastructure for the long-term economic plan.
"We are investing up to £150m to improve mobile coverage in areas where there is currently no coverage from any of the Mobile Network Operators.
"Of course we want to look at what more can be done in areas with poor coverage."