Firefighters stage seven-hour strike in England and Wales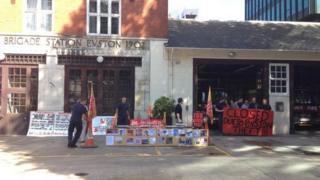 Firefighters in England and Wales are on strike for seven hours in an ongoing row with the government over pensions.
Members of the Fire Brigades Union (FBU) walked out from 10:00 BST - in the 14th strike since industrial action began last September.
Union members are protesting over the government's plans to increase pension contributions and raise the retirement age for firefighters from 55 to 60.
However, the UK government has accused the FBU of "disrupting" discussions.
The FBU says that under the government's proposals, many firefighters could fail fitness tests required to remain on active duty until their 60th birthday and would have to leave the service.
The latest strike follows a 24-hour walk-out by union members earlier this month - the longest strike in the dispute so far.
'Fair pension scheme'
Firefighters are not striking in Scotland or Northern Ireland. The FBU says proposals put forward by the Northern Ireland government will allow firefighters to retire aged 55 without financial penalty.
Matt Wrack, FBU general secretary, said the offer by the Northern Ireland government "clearly demonstrates" that allowing firefighters to retire at 55 is "sensible and affordable".
"The proposals are by no means perfect, but nevertheless demonstrate that when both sides are committed to resolving conflict through dialogue, industrial action can be avoided," he said.
"It's time for the governments in the rest of the UK to take note of the progress we have made in Northern Ireland and agree a more affordable, workable and fair pension scheme than is currently on offer."
The UK government has previously said firefighters are being offered "one of the most generous pension schemes in all the public sector".
Fire brigades have said they have made contingency plans to cover the industrial action - including the use of private firms.
However, authorities have warned not every 999 will be able to be dealt with, especially if incidents do not threaten lives or buildings.