38 police officers leave while facing conduct inquiries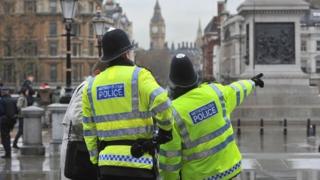 Thirty-eight police officers in England and Wales have left the service in the past four years, avoiding inquiries into their conduct and possible disciplinary action, figures show.
The data from the IPCC police watchdog relates to death in custody cases and other serious allegations.
Among those to leave were six Metropolitan Police officers, six from Durham and six from Essex police.
A police spokesman said that leaving early was less costly to the taxpayer.
The BBC has seen the data, which has been examined by the watchdog the Independent Police Complaints Commission (IPCC), from and including 2009-10 to 2012-13.
Corruption
Police officers who resign or retire while under investigation cannot be subject to any disciplinary action - although criminal proceedings may still be brought against them.
If they leave they still get a pension, and an officer cannot be interviewed about the case under investigation.
The IPCC said the practice hampered investigations and damaged public confidence in policing.
The Home Office said it was committed to changing the law to ensure officers who did leave in such circumstances still faced sanctions.
The figures, supplied by the IPCC, relate to 29 out of 482 completed investigations independently conducted by the watchdog.
In the 29 investigations, 26 officers retired and 12 resigned.
The investigations included three death in custody cases. The other investigations related to death following police contact cases, corruption allegations, and serious complaints about neglect of duty and inappropriate use of force.
'National register'
An IPCC spokesperson said: "As a general principle a police officer resigning or retiring when they are subject to investigation does not serve anyone's purpose and can frustrate our investigations leaving important questions unanswered."
The spokesman added that the IPCC did not have the power to prevent a police officer or member of police staff leaving before misconduct proceedings.
But College of Policing chief executive, Chief Constable Alex Marshall, said that the college was compiling a national register of officers that had been dismissed for gross misconduct "including those electing to resign or who retire in the face of gross misconduct".
He said: "The register isn't just a matter of naming and shaming bad police officers, it is about protecting the public from officers who commit wrongdoing by preventing them from re-entering the service."
Since the register came into effect in December, 148 names have been added to it.
'Search for truth'
Marcia Rigg-Samuel, whose brother Sean Rigg died at Brixton Police Station in London, said she was alarmed at the figure that 38 officers had left the police before investigations ended.
Last month, it emerged that an officer under investigation in her brother's case - PC Andrew Birks - who was involved in Mr Rigg's arrest, restraint and detention - was leaving the force.
The officer was subsequently suspended which had the effect of preventing him leaving, because an officer under suspension requires approval to leave.
Ms Rigg-Samuel said: "Our family are alarmed at the statistics where officers have retired or resigned pending disciplinary investigations, just as PC Birks attempted to do just last month in our case.
"It is important that this escape hatch is closed where there are serious investigations against officers; for the time being all such officers must be suspended in order to avoid allowing them the opportunity of preventing the search for the truth and potential misconduct proceedings."
On Thursday, the IPCC announced that it had served notices of investigation on five officers involved in the arrest, restraint and detention of Mr Rigg and that arrangements were being made to interview them under criminal and misconduct caution.
Scotland Yard said two of the four were on restricted duties.
Daniel Machover, the Rigg family's lawyer, called for the remaining four officers who are being investigated in the case to be suspended to ensure they do not resign or retire.
But the national policing lead for professional standards Chief Constable Jacqui Cheer said: "Where officers resign during the course of gross misconduct proceedings, they often do so as a result of the strength of the evidence against them and an acceptance that dismissal is inevitable.
"By resigning at this early stage, the expense to the service and taxpayers of carrying out an extended investigation is saved.
"Officers or staff who resign in the face of a gross misconduct investigation can then be placed on the College of Policing's Disapproved Register, which prevents them from re-entering the service."