Homeless figures treble among private rental tenants
The number of people made homeless when a private tenancy ends has trebled in the past five years. It is now the single biggest cause of homelessness in England and most have been thrown out by private landlords.
The room is no more than 15ft square. It is packed with furniture and boxes, most of the floor is covered. There is a double bed down the middle of the room and a smaller children's bed wedged in a corner next to the fridge.
Family pictures jostle for space on the wall alongside cardboard boxes and racks of drying clothes. This is where Carla, Paul and their two children lived for nine months.
"It's a very big embarrassment when you have friends and family come over here," Paul says. "You see… effectively my failure as a dad to my family."
It is a tiny place for four people to eat and sleep, for two children to play. "This is it, it's here or nothing, so we have to take it day by day. Looking any further than that is very daunting," he says.
Paul and Carla are part of a new generation of homeless people - they both work, but they say they cannot afford a home.
Their story is common. They had their own privately rented place in their home town of Milton Keynes, but when the six-month tenancy ended the landlord asked them to leave.
According to government figures, the end of a tenancy has been the most common cause of homelessness every quarter for the last two years. In the final quarter of 2009, 1,060 households in England became homeless after their private tenancies were ended, while the latest figure for the first quarter of 2014 is 3,330.
And once low-income families lose a home, they can quickly get trapped. The waiting list for social housing is enormous, but the cost and insecurity of the private sector is too much.
Living like this has affected their health - Paul and Carla have both been on anti-depressants. But their situation is increasingly common - nationally there are 44,000 people living like this.
'Bit shocked'
In Ashford, Kent, Vicky and her daughter have also had to leave their home. Their tenancy came to an end and the landlord wanted them out.
Vicky has never been behind with the rent or had a complaint against her - she was asked to leave because she is on housing benefit.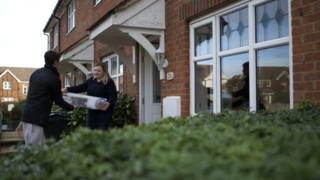 "I was bit shocked," she says. "I kind of thought that if you've treated the property well and you've paid your rent, I couldn't see what the problem would be. I think I deserve better."
Her landlord thinks it makes straightforward economic sense. Fergus Wilson owns 1,000 properties in the South East and decided to evict 200 tenants who were on housing benefit, because he thought they were at greater risk of defaulting.
"We are in business to make money. We are not a charity. If we went to the other extreme of having 100% people on benefits then we would go pop because of the default rate," he says.
"We've had a moral responsibility for a number of years, but it's just reached such a point that we cannot continue."
Vicky found another place to rent, but says it has been a brutal experience. "It just feels so unfair that in this day and age the rug can be pulled out from your feet like this," she says.
Low-income families are being hit by a combination of factors: cuts to welfare payments, rising rents and a shortage of social housing. And some are just falling through the gap.
'Like Victorian times'
Two years ago, Dean Miller was an executive working for a cosmetics company and he and his two children were living in a five-bedroom detached house in Surrey. When I met them, they were sleeping in a camper van.
"It's difficult for us. This is primitive stuff. This is what people did in the Victorian times," he says. "The children having to go to toilet in front of each other - leaning over buckets - it shouldn't happen in this country."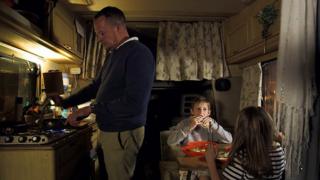 Every story of homelessness is different, but Dean's started with him falling ill and ended with his home being repossessed.
The family were offered council properties, but Dean and his wife were worried about crime. They could not afford private rented accommodation and in the end, their options ran out.
The camper van is old and borrowed from a friend. They got permission to park it in a church car park. At first they tried to make camping seem like an adventure for the children, but the novelty soon wore off.
So what is the answer? Housing charities say tenants need more security, and the country needs more house-building.
The government says overall homelessness is falling and that nearly £1bn has been set aside to help struggling families.
In the end, the families I met all managed to find tenancies. But the trend is clear: a shortage of homes, and the rising cost of private rented accommodation is leaving a generation of families unsure how long they will hold on to their homes.
Watch Panorama, Britain's Homeless Families, BBC One, 23 June, 19:30 BST.