Whistleblower's concerns over safety at Yarl's Wood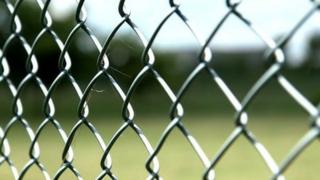 A former mental health nurse at Yarl's Wood immigration detention centre has told BBC News women are not safe there.
Noel Finn said he had repeatedly raised concerns about the assessment and treatment of women with psychological problems, but no action had been taken.
Serco, which run the centre on behalf of the Home Office, said it provided a very high standard of care.
The chief inspector of prisons's latest report had called it an establishment where residents felt safe, it added.
The report had also described "good primary mental health provision", Serco said.
The Bedfordshire centre houses up to 400 women under threat of deportation.
When Mr Finn started working there, in 2012, he said, many of the detainees had been taking anti-depressants without having been properly assessed for psychological problems.
"The system wasn't driven for mental health. It was more driven about, 'Are they fit to fly, physically?'" he said.
A woman he had assessed as being at risk had later burned herself with boiling water, Mr Finn told BBC News. But staff had failed to spot her injury when they had entered her room and it had gone untreated for 16 hours.
When he had asked how this had happened, he had been "basically told to shut up", he said.
"Particularly around mental health, safeguarding and risk there were serious issues, serious gaps that needed to be closed quickly," Mr Finn said.
Serco said an investigation had been carried out and a staff member dismissed.
It had clear policies and procedures in place to enable staff to deal with incidents of self-harm, it added.
Mr Finn, who resigned in 2013, also said he had witnessed "a toxic culture, where guards would flirt and be inappropriate".
"That's totally wrong, there is a line you do not cross," he told BBC News.
A woman detained at Yarl's Wood in 2009 told BBC News she had been propositioned by a guard when pregnant.
She said she had asked him: "'Can't you see I am pregnant?'
"Then he was like, 'But you are not with your boyfriend.' I said if he didn't leave the room I would scream," she said.
She had not reported him because she had thought she would not be believed, she added.
"It can be twisted around that I am the one that is flirting with an officer. And I did not want that kind of stigma on me, so I kept it to myself," she said.
In 2013 two guards were dismissed for inappropriate sexual contact with a woman detainee.
BBC News has learned her solicitor has asked Bedfordshire Police to pursue a case of misconduct in public office against the guards.
Serco "absolutely reject" the suggestion of an endemic problem of sexual exploitation at Yarl's Wood.
On Tuesday, the Commons Home Affairs Select Committee will question several senior Serco directors about its handling of sexual abuse allegations.
Last month, the Observer newspaper obtained an internal Serco report into an alleged sexual assault by one of its staff against a female detainee.
Investigations by the police and Serco had found the allegation could not be substantiated.
Serco's report said the woman had made up the allegation to help her immigration case.
A female guard who had believed the allegation was given guidance on her "objectivity".
'Tip of an iceberg'
Home Affairs Select Committee chairman Keith Vaz MP has expressed concern this report had not been brought to the attention of Parliament or the Home Office.
"That review contains very serious concerns about the way in which alleged abuse has been dealt with by a company that is in receipt of millions and millions of pounds of tax payer's money," he said.
He added numerous anonymous emails the committee had received from detainees alleging poor treatment suggested this "may be the tip of an iceberg".
Yarl's Wood director Norman Abusin said: "The well-being of those in our care is always our top priority and we view all allegations or complaints extremely seriously.
"Complaints are thoroughly investigated and, if substantiated, disciplinary action is always taken.
"Where appropriate, the relevant external authorities are notified and involved."
Listen to the full report on File on 4 on Tuesday 24 June at 20:00 BST on BBC Radio 4. Or catch up later on BBC iPlayer.