Lord Justice Fulford did not back paedophile group, inquiry finds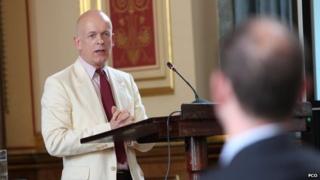 Top judge Lord Justice Fulford did not back a paedophile rights campaign, a judicial investigation has concluded.
The Court of Appeal judge had been accused in newspaper reports of being part of a 1970s campaign to defend the Paedophile Information Exchange (PIE).
But an inquiry by Lord Kerr of Tonaghmore found the allegation was without substance.
Lord Justice Fulford, who stepped down voluntarily from sitting in criminal proceedings, will now resume that work.
Earlier this year, the judge said he had "no memory" of the campaign supporting PIE, which no longer exists, but had in the 1970s been involved with a civil liberties group to which PIE was affiliated.
He said he had never supported PIE and child abuse was "wholly wrong".
He said his sole concern was - and remained - the way individuals were treated in the judicial process, despite some of their views.
'Greater tolerance'
The inquiry into the judge followed a series of articles in the Daily Mail, questioning links between PIE and civil liberties group the National Council for Civil Liberties (NCCL).
The full version of Lord Kerr's report has not been published. The Judicial Conduct Investigations Office, which asked Lord Kerr to carry out the inquiry, said this was the case with all of its investigations.
PIE had called for greater tolerance and paedophile "rights" and campaigned for a lowering of the age of consent to 10.
Labour deputy leader Harriet Harman, her husband and fellow Labour MP Jack Dromey and former Labour health secretary Patricia Hewitt were all prominent figures in the NCCL. The NCCL granted PIE affiliate status in 1975.
Earlier this year, Ms Hewitt apologised for having "got it wrong".
Mr Dromey said PIE was "vile" and insisted he had "stood up" and challenged the group.
Ms Harman has said she "regrets" the NCCL's links with PIE but has "nothing to apologise for".
Lord Justice Fulford was nominated as an Appeal Court judge by Prime Minister David Cameron in 2013 and was appointed to the Privy Council.
He previously sat as a judge at the International Criminal Court, at The Hague, and was one of the judges who handed down the court's first judgement in 2012.