Rolf Harris trial: Jury told to avoid 'speculation or emotion'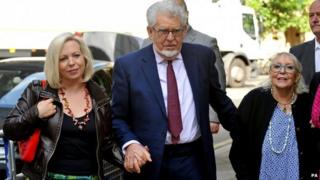 Jurors in the trial of TV entertainer Rolf Harris have been told to guard against "speculation or emotion" when they consider their verdicts.
Summing up at Southwark Crown Court, judge Mr Justice Sweeney called for a "calm, careful and dispassionate consideration of the evidence".
They were told to treat Mr Harris like any other witness who gave evidence.
Mr Harris, 84, denies 12 counts of indecent assault against four alleged victims between 1968 and 1986.
With the evidence completed, the judge began his final remarks.
"Neither media nor internet nor speculation nor emotion of any type can have any part whatsoever to play in your deliberations", he told the jury.
"Guarding against speculation or emotion when entering into your deliberations is absolutely essential in a case of this type."
He said the jury of six men and six women should use their "joint experiences of life and your common sense" in deciding their verdicts.
He added: "That includes your ability to see the wood for the trees and to recognise a red herring when you see one and ignore it."