Iraq conflict: 'Rule nothing out', Fox urges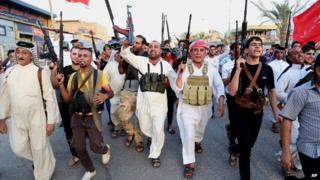 The possibility of sending British troops back to Iraq should not be ruled out, Tory MP Liam Fox has said.
The former defence secretary told BBC Newsnight the consequences of an insurgent victory in the country were "potentially catastrophic".
An Islamist insurgency has seen militants take control of two major Iraqi cities and the UN says hundreds may have been killed in recent days.
The Iraqi security response has so far been "pretty pathetic", Mr Fox said.
Both the UK and US governments have ruled out putting troops on the ground in response to the Islamic State of Iraq and the Levant (ISIS) uprising.
Foreign Secretary William Hague has said Britain could offer counter-terrorism expertise.
Meanwhile, President Barack Obama told reporters on Friday he would take several days to consider America's options.
Asked to rule out putting western "boots on the ground", Mr Fox said: "There will be an extreme reluctance by any western governments to do so.
"But I don't think at the moment, given the potential consequences of ISIS success, that anything can be ruled out at this stage."
'Rise up'
The Sunni insurgents have taken control of key Iraqi towns, including the country's second city, Mosul.
Mr Fox said it appeared the Iraqi government was now fighting back, "notwithstanding the pretty pathetic efforts so far".
But he added: "The question in the coming days will be whether [Shia Prime Minister Nouri] Maliki can rise up as a statesman at this late stage."
Mr Maliki is widely accused by Sunni Arabs in the country of discriminating against them and monopolising power.
The ISIS insurgents, who regard Iraq's Shia majority as "infidels", are moving closer to Baghdad after seizing both Mosul and Tikrit.
Iraq's most senior Shia cleric has issued a call to arms to fellow Shias.
Mr Obama said on Friday the Islamist militants represented a danger not just to Iraq and its people but that they "could pose a threat eventually to American interests as well".
The UK's Department for International Development has sent a team to northern Iraq with a view to offering humanitarian support.
"We will also continue to work urgently within the UN Security Council to help concert the wider international response," Mr Hague said.