London man faces Syria terror charges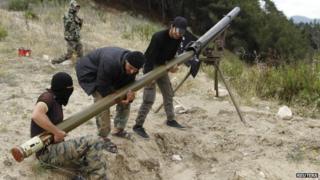 A man from London has appeared in court accused of terror offences in connection with the conflict in Syria.
Imran Khawaja, 26, from Southall, is alleged to have received firearms training from militants in Syria.
Prosecutors say he asked another British man, 44-year-old Tahir Bhatti, to help him obtain an assault rifle and Mr Bhatti agreed to do so.
The men, appearing at Westminster Magistrates Court, spoke only to confirm their names.
Both of the accused will appear at the Old Bailey on 27 June.
Mr Khawaja is alleged to have used a stolen credit card to buy return air tickets to the region.
Mr Bhatti, from Watford, is accused of agreeing to fund the purchase of a Kalashnikov rifle for Mr Khawaja, agreeing to supply a replacement mobile phone and sending coded messages to facilitate Mr Khawaja's return to the UK from Syria.
To do this, he allegedly bought a ferry ticket from Dover to Calais and drove a hire car to the Bulgarian capital, Sofia.