Wife of Paul Weller calls for child press protection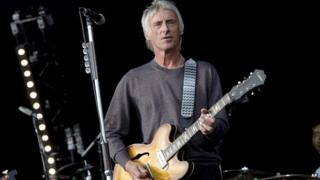 The wife of rock star Paul Weller has called for a change to the law to stop photos of children being published without parental consent.
Mr Weller, on behalf of his children, was awarded £10,000 by the High Court in April after photos of his children were published on the Mail Online.
They were photographed in California and published without permission.
Hannah Weller said she now wanted to "give children better protection from the prying eyes of the press".
"It should be a criminal offence to violate any child's right to grow up free from media intrusion," she said outside London's High Court.
Mr Weller and his wife sued Associated Newspapers for misuse of private information on behalf of their daughter Dylan, who was 16, and twin sons John-Paul and Bowie, who were 10 months old when seven unpixelated pictures of them appeared on the Mail's website in October 2012.
The images were published after a photographer followed Mr Weller, former frontman of The Jam and The Style Council, and his children in Santa Monica, California, and took photos despite being asked to stop.
The couple said the shots were "plainly voyeuristic".
Associated Newspapers - which publishes the Daily Mail, the Mail on Sunday and Metro - argued the images were innocuous and inoffensive.
'Unintended consequences'
It said the Wellers had previously chosen to open up their private family life to public gaze to a significant degree and said it planned to appeal the decision.
Mrs Weller said she had now decided to "make a stand against this threatening, aggressive and abusive behaviour".
She said: "As it stands, the decision about whether or not to thrust children into the media spotlight lies with the discretion of the editors of money-hungry newspapers and online gossip websites who are often more concerned with their own bottom line than the best interests of children.
"These people have shown repeatedly that they cannot be trusted to make the right choices and so it is time to take this decision from them and make it a criminal offence to expose children in this way."
Earlier, she told BBC Radio 4's Today programme that the newspaper code of practice "is not adhered to".
"It quite clearly says that you must not use a person's fame or notoriety as full justification to print information about a child's private life, yet they continue to do it almost on a daily basis," she said.
However, Ian Murray, president of the Society of Editors, told the programme a new law could have "unintended consequences" and could act as a "deadening of freedom of expression in this country".
"The more simple you try to make the law the more basically you have the laws of unintended consequences and the more draconian it becomes," he said.