Firefighters strike for 24 hours over pensions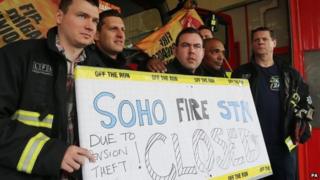 Firefighters in England and Wales are taking part in a 24-hour strike over a row with the government over pensions.
The walk-out, which started at 09:00 BST, is the longest strike yet in the three-year dispute, and coincides with the start of the World Cup in Brazil.
The Fire Brigades Union (FBU) said the government's proposals were "unfair and unaffordable".
But the Department for Communities and Local Government (DCLG) accused the union of "disrupting" discussions.
There have already been 12 walk-outs in the long-running dispute, but this is the first time firefighters will have gone on strike for a full 24 hours.
Fitness test fears
The dispute centres on ministers' plans to raise firefighters' retirement age from 55 to 60 and increase their pension contributions.
The FBU said it feared many firefighters could fail the fitness tests required to remain on active duty in their late 50s, and therefore have to leave the service.
But the government said the deal on offer was fair.
As the strike got under way, FBU general secretary Matt Wrack told the BBC the union had "never walked away from negotiations".
"We will meet them at any time of day - day, night, weekend or whatever", he said.
Mr Wrack accused the government of ignoring evidence and of "not taking into account the jobs that firefighters actually do".
Trades Union Congress (TUC) general secretary Frances O'Grady said: "It is regrettable that the government is still not listening to its own advice or the concerns of firefighters, and is set on imposing these ill-thought out pension changes."
'Contingencies in place'
But a DCLG spokesman said: "The government believes a solution can be reached, but not under the shadow of industrial action, which only serves to damage firefighters' good standing with the public."
The spokesman added that by "disrupting constructive discussions" it showed the FBU was "not serious about finding a resolution".
Firefighters in Scotland are carrying out industrial action short of a strike, including an overtime ban. No industrial action is taking place in Northern Ireland.
As with previous strikes, the government said "contingencies" were in place to keep the public safe, and anyone who needs emergency help should still dial 999.
Brigades also have plans to cope with the impact of the strike on emergency cover and have urged people to take extra care around the home, especially if they are watching the World Cup and consuming alcohol.
The London Fire Brigade is calling on people to order takeaways rather than cook late night meals, particularly if they have been drinking.
The brigade said there was an increase in house fires during the last World Cup with a total of 620 during the month-long tournament, with half of those taking place in kitchens.
Another strike is planned for 22 June if the row remains unresolved.