Afghan interpreters MoD redundancy deal challenge to go ahead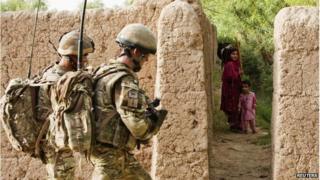 Three former interpreters for UK forces in Afghanistan have won permission to bring a High Court case against the government for alleged discrimination.
Their challenge centres around a redundancy package announced in 2012.
The interpreters argue they are in danger and say they should be given the same rights as Iraqi interpreters who were allowed to settle in Britain.
The government denies their claims and says the interpreters can apply for asylum under a separate policy.
In his ruling, the judge, Mr Justice Mitting said it was "arguable" the three men had been "unlawfully treated differently" from the Iraqi interpreters.
The Afghanistan redundancy scheme was outlined when the prime minister announced the drawdown of UK forces from Afghanistan in December 2012. But it only applied to interpreters who were still serving British forces at the time and who had been employed for more than 12 months.
Cases involving other interpreters are being put on hold pending the outcome of the three test cases.
'Real threats'
BBC defence correspondent Caroline Wyatt said several hundred interpreters were employed in Afghanistan by UK troops, but many will not qualify for the scheme.
This includes some who say they were forced into hiding prior to 2012 because of Taliban threats to their lives, added our correspondent.
Rosa Curling of the law firm Leigh Day, who is acting for the interpreters, said: "Just because they stopped working for the British forces prior to this date does not mean the Taliban are forgetting about them.
"They are being targeted with real and serious death threats, in the same way as those who were and are employed after this date."
The government maintains discrimination did not take place.
It says the Iraqi scheme was designed for "particular challenges" and different considerations applied in Afghanistan.
Its barrister, Jonathan Swift QC, also said there were crucial political differences between the two cases, with the Afghan authorities opposed to the interpreters' relocation.