Bradford school governors 'promoted Islamic agenda'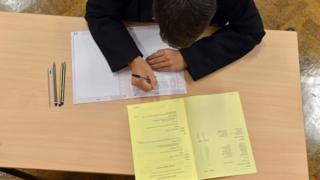 Teachers in Bradford have reported instances of governors promoting a more Islamic ethos, the BBC has learned.
Governors at Carlton Bolling College, which has a mainly Muslim intake, asked whether a broad religious agenda met the spiritual needs of students.
Documents seen by the BBC also suggest boys and girls have been segregated for trips and after-school workshops.
The chairman of the governors rejected claims of an Islamic agenda, saying his aim was to meet community needs.
The revelations come amid concerns about an Islamist takeover in some schools in Birmingham.
After the so-called Trojan Horse claims, Ofsted inspectors found evidence of a campaign to change the character and ethos of some schools in the Midlands city.
Ofsted and Bradford Metropolitan District Council say no schools in Bradford are currently being investigated in relation to Trojan Horse.
Academic standards
However, the BBC has seen documents which may suggest an attempt to bring an Islamic agenda into the classroom at Carlton Bolling, a state secondary school with a largely Muslim governing body.
The documents, which comprise minutes of governing body meetings and correspondence between governors and staff, show:
Governors regularly asked questions about the religious character of the school and whether a broad religious agenda was meeting the spiritual needs of the overwhelmingly Muslim students
Attempts to alter the teaching of sex and relationship education (SRE) for Muslim pupils and segregate boys and girls in these classes
Boys and girls were segregated in after-school workshops
There were boys-only school trips
Senior staff and governors visited Park View Academy in Birmingham, a school which has been placed in special measures by Ofsted because of attempts by governors there to push an Islamic agenda
The chairman of the governors at Carlton Bolling College, Faisal Khan - an independent local councillor formerly of the Respect party - said his aim was to improve academic standards and meet the needs of the communities the school served.
"At the end of the day we have a school that has 90-95% Muslim children, we meet their needs - whether it is halal food, whether it is prayer within school [or] wearing the hijab.
"We don't want children - irrespective of their background - to compromise on their faith."
Mr Khan said it was normal practice to segregate girls and boys in SRE classes, and that single-sex school trips met "the sensitivities of parents".
Asked about the visit to Park View Academy, Mr Khan said he wanted to replicate their model at Carlton Bolling.
"[Ofsted chief] Sir Michael Wilshaw praised it to the hilt and if they can take a school from 5% [gaining five or more A-C grades at GCSE] to 75% what are they doing that we can do here."
'Unrepresentative people'
The most recent Ofsted report on Carlton Bolling in 2013 found the college had made improvements and rated the school as good.
However, confidential documents seen by the BBC reveal head teacher Chris Robinson resigned from her position in 2012 because she felt her reputation, integrity and leadership were being questioned by governors.
Nick Weller, a head teacher in Bradford and chief executive of the Bradford Partnership, an organisation which supports the city's schools and represents head teachers, believes Ms Robinson was unfairly driven out by the governing body.
"I think an excellent, outstanding head teacher has been driven out by a governing body because she would not give in to their agenda of making it reflect the culture and traditions of the Muslim students, more than it did, or more than is right and proper for a state-funded school.
"There's a co-ordinated attempt by a small group of unrepresentative people, whose views are not shared by most of the Muslim parents that I talk to, to gain greater control of governing bodies in Bradford and advance their agenda."
Mr Khan says such allegations have not been substantiated.
Operational matters
Mr Khan was also a governor at another Bradford school, Laisterdyke Business and Enterprise College, where the governing body was sacked en masse in April and replaced with an interim executive board.
It followed an Ofsted inspection that concluded relationships between governors, school staff and the local authority had deteriorated markedly; actions by the governing body were increasingly undermining senior leaders; and governors were becoming too involved in operational matters.
Mr Khan thinks the governing body were unfairly removed.
"We were doing the job that was directed to us by the Department for Education.
"It feels like if it wasn't Muslim governors the response would be different."
The so-called Trojan Horse document names Bradford as a city in which a Muslim takeover of schools could be co-ordinated.
"This is a long-term plan and one which we are sure will lead to great success in taking over a number of schools and ensuring they are run on strict Islamic principles," the document, which has not been authenticated, states.
Economically deprived
Nearly a quarter of Bradford's population are Muslim, and the city is home to the largest proportion of people of Pakistani ethnic origin - 20.4% - in England, according to the 2011 National Census.
The demographics of the Bradford Moor ward, where Carlton Bolling and Laisterdyke are located, are similar to areas in which some of the Birmingham schools under investigation are situated - Muslim-dominated, socially and economically deprived areas.
The local MP in Bradford, David Ward, said: "We cannot allow the situation that has developed in Birmingham, where it has spread to many more schools than are currently affected in Bradford.
"It really needs to be dealt with before it gets out of hand."
Bradford Metropolitan District Council said it was ready to act quickly in any case where there was concern about relationships between head teachers and governors.
Ofsted said it would investigate and respond to any concerns raised.