Men jailed for EDL bomb plot challenge sentences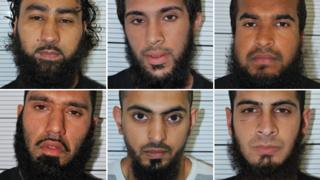 Six men jailed for planning to bomb an English Defence League rally are challenging their jail terms, saying they were treated more harshly than non-Muslim extremists.
The West Midlands men were jailed for between 18 and 20 years for plans related to the June 2012 rally, in Dewsbury, West Yorkshire.
The men are Omar Khan, Jewel Uddin, Zohaib Ahmed, Mohammed Hasseen, Anzal Hussain and Mohammed Saud
They were sentenced in June last year.
'Muslim surcharge'
Judge Nicholas Hilliard QC carried out the sentencing at the Old Bailey.
Five of the men had taken a bomb, knives and sawn off shotguns to the rally in June 2012 in Dewsbury, West Yorkshire.
The case raises the issue of what some lawyers have called a "Muslim surcharge" on sentences for this type of offence.
Khan, Uddin and Ahmed were sentenced to 19-and-a-half years in prison.
Hasseen, Hussain and Saud were given 18 years and nine months.
All of the men received an extra five-year extension to their terms "on licence".
These were what are known as "extended sentences", which means that the men will serve at least two thirds of their principal sentence in prison.
Once they are released, they remain on licence for the remainder of their prison sentence, and for the licence period.
However, the BBC has learnt that the men's lawyers will argue that comparisons with prison terms given to non-Muslims found guilty of similar offences shows a persistent pattern of much lower sentences.
They will point to cases such as that of Nazi sympathiser Ian Forman, who was sentenced to 10 years in prison last month for offences under the Terrorism Act 2006.
Forman developed a home-made bomb, packed with nails and ball bearings, following months of online research in which he identified two mosques he described as "targets".
Home Office statistics
They will also refer to a 2011 report by the Independent Reviewer of Terrorism Legislation, David Anderson QC, in which he identified a perceived link between religion and sentence length for those arrested for terrorism-related offences.
He said: "Some Muslims believe that there is a greater readiness on the part of press, politicians, police and law enforcement officers to characterise attacks by Muslims as 'terrorism' than attacks by far-right extremists.
"This, they say, results in discriminatory sentencing and cements popular perceptions of terrorism, at least in Great Britain, as crime perpetrated overwhelmingly by Muslims."
However, a Home Office study found that that perception was not supported by the statistics.
The men will argue that the study itself is problematic because the basis for categorising offenders into a religious or non-religious group is voluntary self-reporting, so it may be that some Muslims are counted as having no religion.
Lawyers for the six men will also argue that the sentences they received were discriminatory by breaching Article 14 of the European Convention on Human Rights - which prohibits discrimination on grounds of religion - and by being contrary to common law.