Hain: Miliband would win over voters as prime minister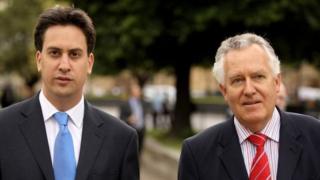 Ed Miliband is the right person to lead Labour and if elected would win over voters who do not yet see him as a prime minister, Peter Hain has said.
The former cabinet minister, who is standing down as an MP at next year's general election, said his party will struggle to win an overall majority.
But it was the same for Labour's rivals in a "multi-party system".
It comes as senior Labour figures debated how to deal with the threat posed to the party by UKIP.
Mr Hain told Sky News Mr Miliband was "likely" to be in No 10 after the 2015 election, but it was "very hard" for the party to win a majority.
The Neath MP said voters would realise that Mr Miliband was the right person to lead the country once he was in Downing Street "even if maybe they don't see that at the moment".
'Raison d'etre threatened'
Mr Hain is among senior Labour figures to have criticised the party for not doing enough to tackle the concerns of white, working class voters who appear to be turning to UKIP in increasing numbers.
Shadow chief secretary the Treasury Rachel Reeves was quoted in the Mail on Sunday as warning about the loss of support on the doorstep at the recent European elections.
"The Labour party came into existence to give a voice for ordinary working people.
"What I saw... were middle class, public sector, well-educated young graduates voting Labour, but the people who the Labour Party was set up to help, abandoning us."
Ms Reeves, a rising star in the party who has been tipped by some as a future leader, was speaking at an event at Queen Mary University of London to discuss Mr Miliband's One Nation Labour concept, launched at the party conference two years ago.
She warned activists: "Our very raison d'etre will be threatened if the working people, who the Labour Party have got to be there for, and got to be a voice for, start to drift away because they don't see us as the answer."
Shadow education secretary Tristram Hunt said Ms Reeves was echoing the message given by Mr Miliband "that we have to make sure that those communities who we historically represent regard Labour as having a successful message for them".
'Legitimate concerns'
Asked if he thought Ms Reeves was right, he told the BBC's Sunday Politics: "If we have got more work to do to get people to the polling booths, then absolutely.
"Rachel Reeves speaks with great authority and wisdom and we should always listen to what she says."
Some senior Labour figures have argued that Mr Miliband should take a tougher line on EU immigration - but others say he should not be drawn into a fight with Nigel Farage on the issue and concentrate instead on policies aimed at tackling low pay and the "cost of living crisis".
Shadow home secretary Yvette Cooper said there were "legitimate concerns" about immigration but "UKIP have been playing on people's fears and exploiting people's fears".
She told the BBC's Andrew Marr Show: "We can't imitate UKIP, we have got to take them on."
UKIP plans to launch its general election policy platform in Ed Miliband's Doncaster constituency in September, as part of its strategy of targeting disaffected Labour voters in the party's northern heartlands.
Labour's lead over the Conservatives has increased to four points in the aftermath of the European and local elections, according to an Opinium/Observer poll.
It puts Labour on 35%, the Conservatives on 31%, down one point, and UKIP unchanged on 19%. The Lib Dems dropped a further point to 6%.