Heavy rain and storms across UK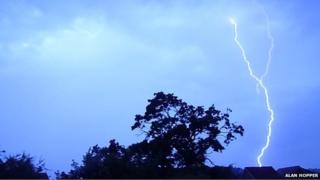 Heavy rain, thunderstorms and lightning have caused disruption across parts of the UK.
A yellow severe weather warning - meaning be aware - issued by the Met Office was in place until 21:00 BST for central and northern areas.
BBC weather presenter Nick Miller said downpours would continue to affect northern parts of the UK.
Meanwhile, a Devon family were forced to flee their burning home earlier after it was struck by lightning.
Fifty firefighters tackled the blaze at the house in South Molton, which was hit by a lightning bolt at 04:30 BST.
Other problems caused by the weather have included:
The Environment Agency earlier warned of "a wet Saturday" with "isolated but heavy downpours" and urged people to visit its website to keep an eye on the risk of flooding.
It has issued six flood alerts in England - meaning "flooding is possible, be prepared" - for parts of the Midlands, the North East and the South East.
The Scottish Environment Protection Agency has also issued flood alerts for Ayrshire and Arran, Central, Dumfries and Galloway, Edinburgh and Lothians, Scottish Borders and West Central Scotland.
Lightning activity
The BBC's Nick Miller said two bands of thundery rain moved from the south of England northwards on Saturday morning with high levels of rainfall and some thunder.
Some of the heaviest rain was over East Anglia, Lincolnshire and east Yorkshire at lunchtime.
Heavy rain was continuing to work its way northwards, he added, although lightning activity had decreased.
Sunshine and showers are expected on Sunday, with far less wet weather than on Saturday.
The Met Office's yellow warning has been issued for north Wales, northern parts of the Midlands and East Anglia, northern England, southern and central Scotland and the east of Northern Ireland.