Madeleine McCann search: Police focus on two new areas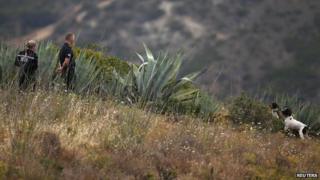 Police investigating the disappearance of Madeleine McCann have focussed their attentions on two new patches of land within the 15-acre search area.
Met Police officers have been examining the same section of private scrubland in Praia da Luz since Monday.
They have now focussed their attentions on two fresh areas within the site, where officers have cut back vegetation and used ground-penetrating radar.
Madeleine was three when she went missing in Portugal in 2007.
As the search entered its fifth day, officers wearing Met Police uniforms have been seen studying a flat area of ground at the opposite end of the site in Portugal, which has seen activity over the past week.
They have also been examining the uneven ground inside one marked-out area, which was covered with long grass.
An item of clothing, believed to be a man's sock, was removed from the scene but is believed to have been ruled out of the investigation.
'Encouraged'
British and Portuguese police were due to end their search on Friday but have been given permission to continue into next week.
As well as being granted a seven-day extension at the search site, officers also have permission to investigate two other areas.
The BBC understands officers are due to continue searching the first area until Sunday, when the operation will halt for two days to coincide with a Portuguese national holiday.
Officers are then expected to begin work at the two other areas of interest from Wednesday. Both sites are believed to be in the "Luz area".
On Thursday, Madeleine's parents, Kate and Gerry McCann, said they were "encouraged" by the progress made by police.
The couple released a statement on the Official Find Madeleine Campaign Facebook page.
"We are being kept updated on the on-going work in Portugal and are encouraged by the progress. Thank you for continuing to stand by us and supporting our efforts to get Madeleine home," they said in their first comments since the police search began on Monday.
The search comes after the Met launched a fresh investigation into Madeleine's disappearance last July, codenamed Operation Grange.
In March, they said they were seeking an intruder who sexually abused five girls in Portugal between 2004 and 2006.
Detectives said the attacks had happened in holiday villas occupied by UK families in the Algarve.
And last month Scotland Yard said a "substantial phase of operational activity" in Portugal would start soon.