Measures aimed at addressing drop in rape convictions launched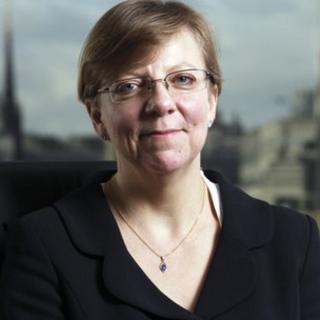 Measures aimed at improving the conviction rate for rape in courts in England and Wales have been launched by the Director of Public Prosecutions.
Alison Saunders and the leading national police officer for rape called for a renewed effort to dispel "myths".
The plan includes monitoring the quality of decisions when police decide to drop investigations.
The conviction rate for rape dropped in the last 12 months after five years of steady improvements.
In 2007-08, 58% of cases brought to trial resulted in a conviction. The conviction rate hit a high of 63% in 2011-12 but has since fallen back to 60%.
Separate figures provided to MPs show that the proportion of allegations referred by the police to prosecutors for a decision on whether to go to trial fell in 2012-13, despite a 30% increase in the number of rapes being reported. The most recent figures for 2014 suggest that the referral rate is beginning to rise again.
Police sent 5,400 cases to the CPS in 2012-13, representing 31% of all reports they had received. In 2008-09 the referral rate was 50%.
Rape prosecutions: Number of cases brought and % of convictions by year
07-08
08-09
09-10
10-11
11-12
12-13
13-14
Cases
3,503
3,495
3,819
4,208
3,864
3,692
3,891
Convictions
57.7%
57.7%
59.4%
58.6%
62.5%
63.2%
60.3%
Ms Saunders said the decline in successful rape convictions "must be addressed immediately".
"Over the last year we have worked hard to increase the volume of rape cases referred by the police and charged by prosecutors and our latest figures are certainly encouraging," she said.
"But even though there have been slightly more defendants convicted, the steady increase in conviction rates we have seen in recent years has halted, and this must be addressed immediately.
"I am determined to ensure our long-term progress to tackle rape continues, particularly in dispelling the myths and stereotypes surrounding these types of cases."
The DPP said the joint CPS-police action plan made clear that the focus of any investigation, or preparation of a prosecution, must focus on the credibility of the allegations, not the credibility of the victim.
She said: "Myths and stereotypes still pervade throughout society and have the potential to influence jurors too. We have a part to play in fighting any pre-conceptions through the way we handle and present our cases to those juries. "
The key measures include:
Ensuring that prosecutions focus more clearly on what the law says about consent to sex in complicated cases.
Reviewing the operation of specialist Crown Prosecution Service teams and the barristers they use to present evidence to juries in court.
Monitoring police decisions when they decide to take no further action on some allegations, including analysing why and how that decision was authorised.
Assistant Commissioner Martin Hewitt, the national policing lead for adult sex offences, said: "All the changes we have made in the way police deal with sexual offences - specialist training of officers, the introduction of early evidence kits, greater access to sexual assault referral centres and working closely with support groups - are changes that have emerged from looking at ourselves and realising that we can do things better.
"We've taken another hard look at how we do things and found room for further improvements.
"We are determined that the service we provide to victims is the best it can be, so that more victims have the confidence to report, knowing that they will get the support they need to go through the criminal justice process and that we will do everything we can to bring offenders to justice."