Firefighters to stage two fresh strikes over pensions row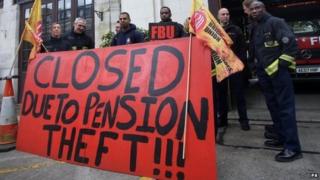 Firefighters are to stage two fresh strikes as part of their ongoing battle with the government over pensions.
The first stoppage will be held on 12 June, when firefighters walk out for 24 hours, and the second on 21 June, which will last seven hours.
Members of the Fire Brigades Union (FBU) in England and Wales are protesting changes to firefighters' pensions and a later retirement age.
The 24-hour strike will be the longest in the three-year campaign to date.
It will coincide with the start of the World Cup.
FBU general secretary Matt Wrack accused fire minister Brandon Lewis of "burying his head in the sand" over the issue.
"He must accept that firefighters simply will not give up fighting for their futures, and our fire and rescue service," he said.
"Concerns over these unworkable proposals remain as valid and grave as ever, and the government has ignored all the evidence, including its own reports.
"Our most recent discussions with government suggest they simply do not have a clue about the work firefighters actually do or the standards firefighters are required to meet.
"It is a difficult decision for us to take strike action, but the only way for us to resolve this unnecessary and costly dispute is for the government to start listening to reason."
The long-running dispute between firefighters and the government has already seen 12 separate strikes.