Harris trial: TV's Cook says she forgot game show too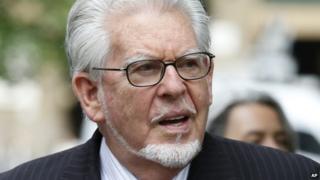 TV presenter Sue Cook has told a court that Rolf Harris should not be accused of lying after he forgot about a game show appearance in the 1970s.
She said she did not recall being in the programme, which was filmed in Cambridge and where Mr Harris is said to have committed an indecent assault.
Mr Harris had claimed he first visited the city four years ago, but video footage revealed he was there in 1978.
The entertainer denies 12 indecent assaults between 1968 and 1986.
The charges are related to four girls aged between seven or eight and 19.
Ms Cook, a former presenter of the BBC's Crimewatch programme, told Southwark Crown Court that she appeared in the ITV Star Games series two or three times.
She said celebrities were "bussed in" to a recreation area and that the town or city was "immaterial".
One alleged victim has claimed that Mr Harris grabbed her bottom when she was waitressing after a game show event in Cambridge in 1975.
However, prosecutors have said she may have got the date wrong.
Ms Cook told the court she saw the video of Mr Harris appearing in the Cambridge episode of Star Games on the news on Monday.
Ms Cook told the court she tweeted that it was not fair as she would not have remembered being there either.
'Not fair'
"I said to my husband, 'Gosh, that's not fair - I wouldn't have remembered it was Cambridge either'," she said.
"I don't think he can be accused of lying because I can't remember it. I was a participant in that game show but I wouldn't have known it was Cambridge either."
Ms Cook told the court that she did not remember Mr Harris having been in the same episode as her.
She said she had forgotten "loads" of events she had been to over the course of four decades in broadcasting.
She referred to an occasion when her mother-in-law gave her a DVD of an event at the Royal Opera House in London and she thought she had confused her with fellow broadcaster Sue Lawley.
"To my amazement it was me hosting a gala event at the Royal Opera House," Ms Cook told the court.
"I have no memory whatsoever of doing it."
Earlier, Mr Harris's former tour manager, Ken Jeacle, told the court he had never witnessed any "questionable" behaviour on the entertainer's part.
Speaking via video-link from Australia, he said: "Rolf Harris, as I observed, was a gentleman who was a very affectionate, warm, outgoing personality. His tendency to be demonstrative with outward affection is constant.
"He has absolutely no problem whatsoever with giving somebody a warm embrace, he's done it to me a million times."