Madeleine McCann police search drains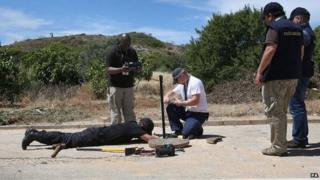 Police investigating the disappearance of Madeleine McCann have begun searching drains and sewers close to where the three-year-old went missing.
Officers who are searching a 15-acre site in Praia da Luz have been removing manhole covers and used probe-like devices to investigate inside.
Met Police were due to end their search on Friday but have been given permission to continue in to next week.
Madeleine was three when she went missing in Portugal in 2007.
On the Official Find Madeleine Campaign Facebook page, her parents, Kate and Gerry McCann, said they were "encouraged" by the progress made by police.
"We are being kept updated on the on-going work in Portugal and are encouraged by the progress. Thank you for continuing to stand by us and supporting our efforts to get Madeleine home," they said in their first comments since the police search began on Monday.
It comes as forensic teams began examining sewers close to the edge of the site, near to where police officers have also been seen clearing patches of land with pickaxes and pitchforks.
British and Portuguese officers have continued to examine several other patches of scrub land on the fourth day of their search.
Officers remain at two tented areas, where forensic officers wearing blue overalls and face masks were working yesterday.
The BBC understands that the tents were put up over a hole in the ground - possibly a disused well - and officers were seen filling buckets with earth, which were then placed into a wheelbarrow.
Officers from the Met and South Wales Police, along with Portuguese officers, have been working with sniffer dogs and using spades to help sift through the undergrowth during their search so far.
---
At the scene
By Lauren Turner, BBC News, in Praia da Luz, Portugal
Det Ch Insp Andy Redwood has become a familiar sight at the search area in the resort of Praia da Luz.
After being driven in to the site each day, wearing a suit despite the scorching weather, he has been paying very close attention to the work his team is doing. He has been having discussions both with his officers and his Portuguese counterparts.
But what they are saying is still unclear, as the police have not been giving updates on this phase of their investigation.
Asked by a newspaper journalist if he could say anything about the progression of the search as he left the cordoned-off area on foot, DCI Redwood simply shook his head.
He was later seen walking around the centre of the resort, near the Ocean Club where the McCanns were staying when Madeleine went missing. He also passed a road where a man carrying a child was seen at 22:00 on the night the three-year-old disappeared.
With no apparent significant finds as the search nears the end of its first week, the hard work for DCI Redwood and his team involved in this long-running case continues.
---
They have also used ground-penetrating radar equipment to detect signs of disturbed earth.
The investigation is being overseen by the Met's Det Ch Insp Andy Redwood.
As well as being granted a seven-day extension at the search site, officers also have permission to investigate two other areas.
Portuguese police sources said British officers were surprised at how difficult the terrain is to examine.
On Wednesday morning, the national Portuguese newspaper, Correio da Manha, reported that there would be a search of the sewage network around the Ocean Club, where the McCann family was staying when Madeleine disappeared.
It also reported that the bones of cows and pigs had been unearthed by the search on Tuesday.
A Metropolitan Police spokeswoman said there would be no running commentary on the operation.
Two sniffer dogs have been provided by South Wales Police for the search.
The Met launched a fresh investigation into Madeleine's disappearance last July, codenamed Operation Grange.
In March, they said they were seeking an intruder who sexually abused five girls in Portugal between 2004 and 2006.
Detectives said the attacks had happened in holiday villas occupied by UK families in the Algarve.
And last month Scotland Yard said a "substantial phase of operational activity" in Portugal would start soon.