WW2 planes fly to Normandy to mark D-Day 70th anniversary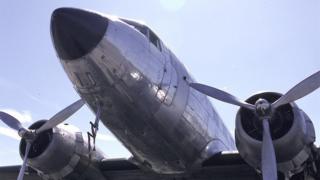 A group of World War Two-era aircraft have flown to France from southern England to mark the 70th anniversary of the D-Day landings.
Eight DC-3 Dakota planes from the former HMS Daedalus airfield in Hampshire flew to Normandy, just as they had for the invasion.
They were due to drop 100 parachutists at Carentan but the event was cancelled because of strong winds.
A mass parachute jump is due to take place in Normandy, on Thursday.
One DC-3 had flown to the UK from the US, while others came from Switzerland, Denmark and Hungary to join the flight.
The parachutes that were due to be used in the planned jump were the same round shape as those used in World War Two - modern designs tend to be rectangular.
D-Day was the biggest seaborne invasion the world has ever seen, but crucial to the success of the mission was the airborne assault spearheaded by the DC-3 Dakota planes.
Meanwhile, a US bomber is to take part in D-Day commemorations in Graignes, France, on Saturday.
The deployment of the B-52 will mark the involvement of the US Eighth Air Force in the allied invasion of Normandy.
---
D-Day - 6 June 1944
156,000 Allied troops landed along a 50-mile stretch of occupied France's coastline to fight Nazi Germany
D-Day had been planned for more than a year, and those who were to take part spent several months training
The ambitious air and sea assault was dependent on a combination of factors, including the weather, tidal conditions and surprise
It was originally scheduled for 5 June
Storms forced Supreme Allied Commander Gen Dwight Eisenhower to put it back 24 hours. Finally, the weather improved and he gave the command
A total of 156,000 men took part in D-Day, but many times that number were to be involved in the ensuing campaign over the next few months
A total of 6,000 ships and landing craft were involved, delivering troops to five beaches along a carefully selected stretch of the Normandy coast
---
Three US B-52 Stratofortresses have also been sent to RAF Fairford in Gloucestershire to take part in training exercises to sharpen their skills.
Separately, there will be 70 anniversary events across Britain and France supported by the Ministry of Defence.
These include the mass parachute jump in Ranville, Normandy, on Thursday, carried out by members of the 16 Air Assault Brigade.
On Friday 6 June, the 70th anniversary of D-Day, a further service of remembrance will take place at Bayeux Cathedral followed by a special event at the Bayeux Commonwealth War Graves Commission Cemetery.
The Normandy Veterans Association has said that this year's tributes will be the last it will officially mark before it is disbanded.