Charlie Brooks foolish but not criminal, hacking trial hears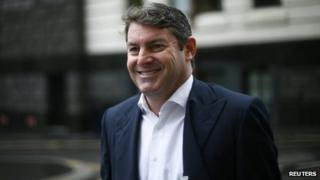 Charlie Brooks was "foolish" but not criminal when he stashed away porn DVDs and computer equipment in a car park, the phone-hacking trial has heard.
In the last of the closing speeches, his lawyer urged "common sense" over Mr Brooks, a horse trainer and husband of former tabloid editor Rebekah Brooks.
And he dismissed claims Mr Brooks had embarked on a "military-style operation" to hide evidence.
Mr Brooks denies a charge of conspiracy to pervert the course of justice.
He is one of seven defendants, including his wife - who edited the News of the World and the Sun before becoming chief executive at their publisher News International - who deny allegations linked to phone hacking by journalists at the News of the World.
The jury at the Old Bailey has now heard the final speeches of all seven defendants.
'Not a clever plan'
Mr Brooks, 51, told the court he hid the porn DVDs to avoid a "Jacqui Smith" moment. This referred to the former home secretary's public embarrassment when it emerged that pornographic films had been charged by her husband to a pay TV account and then inadvertently claimed on Mrs Smith's MP's expenses.
Mr Brooks feared police investigating his wife for hacking would leak what they found in searches and cause embarrassment for her, the court heard.
He also wanted to keep notes for a new novel, Swatch, away from police, he added.
His lawyer Neil Saunders asked the jury to consider the prosecution case for a "fairly complicated and military-style operation involving many people embroiled in a web of deceit".
Rather, he said: "The defence suggest if you use your common sense you may conclude this was not a clever plan but a man who made a foolish mistake to hide his property."
Mr Saunders said the computer equipment in bags recovered from the underground car park had not contained anything of interest to police.
He added: "We suggest the prosecution has been theory-driven and not evidence-led."
He went on to describe his client as a loving husband and father who was honest and funny but sometimes daft and occasionally unwise and forgetful.
'Huge sensational case'
The jury then heard the final defence speech of the trial, from News International security director Mark Hanna's lawyer.
Mr Hanna faces a single allegation of perverting the course of justice.
He is jointly charged with Charlie and Rebekah Brooks with concealing potential evidence from the police in July 2011.
His lawyer, William Clegg QC, dismissed the prosecution's suggestions Mr Hanna had been persuaded to join in a complex criminal conspiracy with Mr Brooks.
If he had been, he said, it would have made Mr Brooks a "master criminal, the Moriarty of the Chipping Norton set", referring to the fictional Sherlock Holmes villain.
Mr Clegg described Mr Hanna as "middle management, who did not mix with the great and the good" and had seen former Prime Minister Tony Blair only on television.
He told the court his client was "a man who has been caught in a dreadful trial… this huge sensational case that in truth has nothing to do with him".
The judge, Mr Justice Saunders, is due to begin his summing up on Wednesday.