New crackdown on corrupt lawyers who help criminals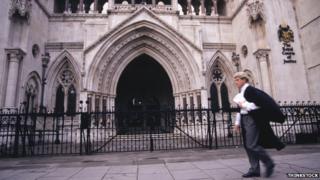 Lawyers, couriers and accountants could be jailed if they turn a blind eye to criminal activity they profit from, under Home Office plans.
It wants to see a new offence of "participation in an organised crime group" to target those who have reason to suspect they are part of an illegal enterprise.
Critics say current laws are tough enough but need better enforcement.
The new laws will also give police more power to seize criminal assets.
There is currently £1.5bn outstanding in unpaid confiscation orders - double the amount that has been seized since 2010.
In March, MPs criticised the government for allowing criminals to keep the proceeds of crime by choosing to go to jail instead.
The Public Accounts Committee said just 26p in every £100 of criminal proceeds was recovered by authorities last year.
'Veneer of respectability'
The Home Office believes too many people are helping criminal gangs by not asking questions about why their services are required, and later deny any knowledge of the criminal activity when cases reach court.
It is hoping to target people such as couriers or van hire companies who help to move counterfeit goods, or lawyers and accountants who take a "no questions asked" approach while assisting criminals with services such as writing up contracts.
It says the new offence would also target the "Mr Bigs" in charge of criminal networks who do not always "get their hands dirty".
Those convicted under the new offence would face up to five years in jail and could be subject to further civil measures.
Home Office minister Karen Bradley said: "Nobody is above the law. But for too long corrupt lawyers, accountants and other professionals have tried to evade justice by hiding behind a veneer of respectability.
"This new offence sends out a clear message to those individuals - if you are helping to oil the wheels of organised crime, you will be prosecuted and face being jailed."
"Effective enforcement"
But the Association of Chartered Certified Accountants (ACCA) said the consequences for accountants and lawyers who breach the law were already severe enough and that effective enforcement was required instead of new laws.
John Davies, head of business law at ACCA, said: "The sentences that have been imposed on professional advisers under the existing Proceeds of Crime Act demonstrate that the legislation has teeth, though the key, as always, is effective enforcement.
"Under the current rules, it is a criminal offence for any person to be involved in an act of money laundering.
"Practising accountants and lawyers are also expected to look beyond the immediate facts of a situation and adopt an air of scepticism about clients and their behaviour.
"As well as being required to report to the authorities on the basis of suspicion rather than hard evidence, advisers who choose to ignore criminal activity or turn a blind eye to it are already exposing themselves to criminal prosecution. "
The Home Office also says greater powers will be given to the National Crime Agency and the police to seize criminal assets more quickly and close loopholes used by criminals to get round confiscation.
There is currently £1.48bn outstanding in unpaid confiscation orders but only £746m of criminal assets have been seized, which the government says is a record amount.
Victims of crime have received £93m since 2010.
The Home Office says it will legislate on the measures as soon as parliamentary time allows.