Rolf Harris testimony 'contradicted' by video evidence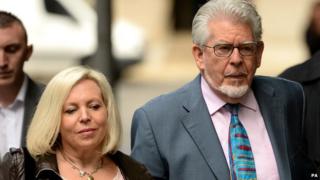 The jury at the trial of Rolf Harris has seen a video prosecutors say contradicts his assertion he could not have been at the location of one of his alleged indecent assaults.
The footage, from ITV game show Star Games, was filmed in Cambridge in 1978.
The entertainer had told the court he first visited the city four years ago.
Mr Harris, 84, denies 12 indecent assaults between 1968 and 1986. In cross-examination, he said he had not realised where the show was shot.
Prosecutor Sasha Wass QC suggested he was "telling a deliberate lie".
Ms Wass said one of the complainants had been working as a waitress after a games show event in Cambridge.
The complainant told the jury she had been indecently assaulted there by Mr Harris at around the time she was aged 14 in 1975.
Ms Wass said the video supported "pretty much everything" the complainant had said, apart from the date of the alleged incident.
"She's got the year wrong," said Ms Wass.
The video, a short extract of which was shown to the jury at Southwark Crown Court, started with the Thames TV opening logo.
The programme titles showed Mr Harris in a tracksuit top and white shorts. The show featured him as a team captain.
Mr Harris said he didn't remember going to Cambridge. He said to Ms Wass: "I don't think you understand the showbiz scene at all.
"You sign a contract, you are taken to a place."
Mr Harris said he had a "lapse of memory" but had not deliberately lied.
"I'm doing hundreds of events during the year, going to Australia, Canada, New Zealand, South Africa," he added. "This was 36 years ago you're talking about, 1978, not '75 as you stated earlier."
---
In court
By Callum May
Large display screens on the wall of court two showed Rolf Harris hopping like a kangaroo - "monkeying around", as prosecutor Sasha Wass QC put it.
Star Games, filmed in 1978 at Jesus Green in Cambridge, was a charity celebrity team challenge, featuring actors and singers competing.
Rolf Harris was the captain of the "theatre" team, whose members included Robin Askwith and Rula Lenska. His opponents included Davy Jones, of the Monkees, and singers Patti Boulaye and Dave Dee.
In a powder-blue suit and one of his colourful ties, Mr Harris occasionally answered back to the prosecution, at one point accusing Ms Wass of making a "snide comment".
The judge warned him: "This is not a verbal joust, this is the asking of questions and the giving of answers."
Rolf Harris acknowledged he had made a "sweeping statement" when he said he hadn't visited Cambridge earlier.
Asked whether it was a "deliberate lie", he replied: "No it wasn't."
---
Later the court heard from Mr Harris's daughter Bindi Nicholls, who was a childhood friend of one of the alleged victims.
Asked about a family holiday during which Mr Harris is alleged to have assaulted the girl after putting a towel around her, Mrs Nicholls. 50, said it would be "incredibly odd" for him to have put a towel round anyone, saying her friend was "incredibly independent".
'Utter shock'
The two girls had been "stuck together like glue" during the holiday, she added.
Mrs Nicholls told the court she had been "devastated" to move away from her friend in south London, saying the friend had come to visit her in Bray, Berkshire where the Harris family had moved.
She described claims that her father assaulted the girl when she was sleeping in the same room as "ridiculous" and "laughable".
Mrs Nicholls told the court the alleged victim had reacted angrily when she told her she suspected her father of having an affair.
"It felt like she was in love with my dad which was just weird," she said.
Her friend then revealed that she had had a relationship with Mr Harris since she was "18 or 19", Mrs Nicholls said.
She said the alleged victim never told her that her first sexual encounter with Mr Harris was when she was 13.
Mrs Nicholls said she had been in "utter shock" at the news, but had since mended her relationship with her father.
She was then cross-examined by Ms Wass, who suggested she had "colluded" with her father over the date of their move to Bray in an effort to bolster his defence.
The case continues.