RAF airmen missing since WW2 'will get military funeral'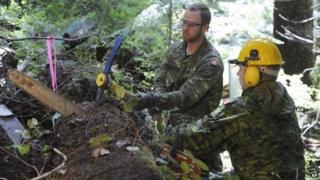 A military funeral will be given to three RAF airmen whose plane disappeared in Canada during World War Two, the Ministry of Defence has said.
The men's Avro Anson twin-engine bomber went missing on 30 October 1942 during a training flight.
It was found in a forested area of Vancouver Island in October 2013 by workmen harvesting timber.
Remains have been identified as being pilots Charles Fox and Anthony Lawrence, and Sergeant Robert Luckock.
The logging crew discovered the wreckage on a mountainside near Port Renfrew, about 80 miles from Sidney, where the plane is believed to have taken off from.
Fourth man
The British Columbia Coroner's Service said it used DNA testing to identify the remains. Family members of the airmen have been informed.
A Ministry of Defence spokesman told the BBC: "A funeral service will be arranged in Canada and the bodies interred with full military honours in due course. The relatives of the airmen will be invited to attend."
A fourth man found in the wreckage has been named as Royal Canadian Air Force Sergeant William Baird.
A military funeral means that a senior member of the armed forces will be present at the burial, and the coffin will be draped in a union jack flag.