Scottish independence: The Scots in England who want Scotland to go it alone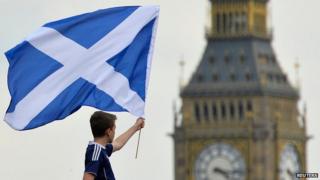 Hundreds of thousands of Scottish-born people live south of the border. And despite making England their home, some want to see an end to the union.
There are more Scots in England than any city in Scotland.
It might sound surprising, but according to the latest census figures, there are about 750,000 people born in Scotland who live south of the border. That's more than the population of Edinburgh or Glasgow.
From the corridors of Whitehall to the dugouts of Premier League football clubs, Scots in England certainly make their presence known.
On the 18 September, when voters in Scotland will be asked the yes/no question: "Should Scotland be an independent country?", they won't have a say. But many still have strong opinions.
Many public figures in favour of a "No" vote have made their voice heard. Michael Gove, the Tory Chief Whip, who was raised in Aberdeen, said his identity would be "shredded" if Scotland was no longer part of the UK and thousands of other Scottish-born England residents would feel the same.
Writing in the Evening Standard, the leader of the Better Together campaign, Alistair Darling, said the UK's "togetherness has made us great -smashing that will lessen all of us" and called on pro-union Scots in London to be "confident and proud" of their opinion.
But other Scots in England are unconvinced. And despite having made England their home, some are involved in the campaign to break the union with Scotland for good.
Charles Docherty is one of them, having moved to London from Port Glasgow in 1990. A self-described "economic refugee", he secured a job at Lambeth Council and has lived in England ever since.
When the Scottish referendum was announced, the staunch Scottish nationalist and long-standing member of the Scottish National Party founded Yes London - a group of Scots living in the UK capital, campaigning for Scotland to go its own way.
It's a modest collective, he admits, with just 18 members. They don't meet, instead using the internet for their discussions. Their aim is to "influence friends and family back home", Mr Docherty says.
"At an early age I got angry at the way the UK seemed to get credit for Scottish achievements but failures were Scottish. As I got older and a bit more clued up I realised Westminster favoured London at the expense of Scotland and indeed the other regions of England too."
The argument is a well-trodden SNP line. Scottish First Minister Alex Salmond has said London is "the dark star of the economy, inexorably sucking in resources, people and energy", suggesting an independent Scotland would be a "northern light" to help redress that imbalance.
But Mr Docherty himself has decided to set up home in that dark star. Has he not actually benefited from the union?
"I was obviously a benefit to my employer otherwise they would not have employed me. But even if there had been no union, I would surely have been able to obtain the job based on ability?" he argues.
There have been some positives to living in England, the Scot admits. He met his Spanish wife and bought property. But he says whatever the referendum result, he plans to move back to Scotland when his wife retires. Her job is the only thing keeping them in England, he says.
Another England-based Scot who is keen for Scotland go it alone is 29-year-old Adam Ramsay, who lives in Oxford and writes for political magazine Open Democracy.
He's been writing a series called "40 reasons to support Scottish independence" since April, citing reasons ranging from scrapping Trident nuclear weapons, what he describes as "diverging political paths", to the rise of UKIP in England.
But the main one, he says, is democracy.
"Britain has the most centralised and least democratic Parliament in the Western world. Independence will really shake things up and create an opportunity for real reform down here too," he says, arguing it would also lay to rest the current anomaly whereby Scottish MPs can vote on issues - such as education and health - that don't affect Scotland because they are devolved powers.
The former NGO worker, who is originally from Perthshire and has lobbied in both Edinburgh and London, also believes there is a profound difference in politics.
Holyrood, he says, is accessible and allows those with an interest in issues to speak to politicians and those in power. The same is unthinkable at Westminster, with "no chance" of similar access, he argues.
The blogger rebuffs any suggestion there is a contradiction in living in England and being a passionate supporter of independence.
"We have a common labour market across the EU," he points out. "I could equally have applied for jobs in Ireland or Malta."
He is so determined to make his voice count, he plans to move to Edinburgh before the referendum so he can vote. "I'll be voting yes - and if the rest of Scotland votes yes, I intend to stay there permanently," he says.
Having lived in London until August, masters-degree student Claire McGrath, 23, has already made the move back north of the border.
She says she was "leaning towards a No vote" when she started studying globalisation and development at Queen Mary, University of London, 10 months ago, but living south of the border has actually persuaded her that Scotland should not be part of the UK.
Polls indicate that people in England and Wales are increasingly eager for Scotland to vote "No" but people were often "antagonistic" towards her homeland when the referendum came up in conversation in England, she says.
"A lot of people think we take out more than we put in. People would come up to me and say, 'I wish we had a vote, and if we did you would be out,' which annoyed me," she says.
Her arguments for a split echo those of Charles Docherty. "Everything is so London-centric. Too much wealth and investment is concentrated there," she says.
Ms McGrath also believes there is more chance of there being a political party she would support in a newly independent Scotland. She talks negatively about the focus on austerity from the main parties in London. That would not be the case in an independent Scotland, she claims.
"The focus would be on Scotland," she says. "That could create a more equal society."
---
The opposite view
Scottish-born Islay Fraser, 67, lives in North London and would vote "No" if he had the choice. He believes a split would change the relationship he has with England - his home for almost five decades.
"The relationship would change after independence. I would feel weird. I would feel out of place," he says, in a thick Scottish accent.
Mr Fraser was brought up in Greenock, in the West of Scotland, but moved to England after school to find a job. He then married a Scot and settled in England. His children consider themselves "Anglo-Scots".
The Scottish government's plans for an independent Scotland are "not all bad", he says, but the "unanswered questions" - such as what would happen to his citizenship, Scotland's currency and its relationship with the EU - leave him unconvinced.
"There is no great benefit in changing the relationship," he concludes.
---
A referendum on whether Scotland should become independent is to take place
People resident in Scotland will be able to take part in the vote, answering the "yes/no" question: "Should Scotland be an independent country?"
The referendum will take place on Thursday, 18 September 2014
Go to the BBC's Scotland Decides page for analysis, background and explainers on the independence debate.
---