'Syria-related' terror arrest at Heathrow Airport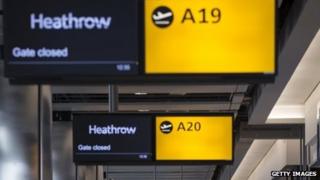 Police at Heathrow Airport have arrested a 19-year-old man suspected of terror offences, the Met has said.
He was detained by counter-terror SO15 officers on suspicion of "preparing for acts of terrorism". A spokesman said the arrest was "Syria-related".
The force said it had searched an address in Camden, north London, but that the arrest was "not in response to any immediate risk or threat".
The teenager is being held in custody at a south London police station.
In a separate incident at the airport, the Met said officers from the same unit arrested a 20-year-old who they believe sent "money/property overseas for the purposes of assisting terrorism in Syria".
The British national was arrested as he entered the UK and is also being detained in south London.
Both suspects were held under the Terrorism Act 2006.