Lord Rennard Lib Dem row 'blown up' - Shirley Williams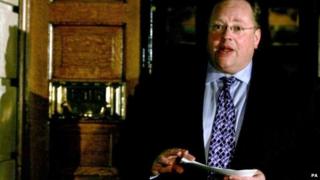 One of the founding members of the Liberal Democrats has played down the seriousness of the issue of Lord Rennard's alleged sexual harassment.
Party peer Baroness Shirley Williams said the row had been "blown up".
Lord Rennard, who has been suspended from the party, apologised last week for "inadvertently" intruding into the "personal space" of four women.
Lady Williams also defended Lib Dem leader Nick Clegg after the party's poor showing in the recent elections.
She said Mr Clegg was an "utterly decent" man, and the right person to renegotiate a new coalition deal.
'Private life'
Lord Rennard resigned the party whip last year amid claims that he had made unwanted sexual advances to several women and touched them inappropriately.
Lord Rennard, who masterminded a series of by-election victories for the party over 20 years, was asked to apologise after an internal party probe by senior barrister Alistair Webster QC in March.
It concluded the claims against him were credible but could not be proved beyond reasonable doubt.
Lord Rennard remains suspended from the Lib Dems and sits as an independent in the House of Lords. But one of his accusers has said he should be asked to leave the party.
His legal adviser has asked that the Webster report be published and called for him to be allowed back into the Lib Dems.
Lady Williams told BBC Radio 4's Today programme the issue had been "hugely blown up".
"He was a very decent and loyal member of the party as the chief executive, he did huge amounts for the party," she said.
"And I think his private life... he has already apologised for, and that's fine.
"If I may say so, there are some comparisons which suggest there are real, serious sexual harassments and so forth, and I don't think he's one of the most serious cases."
---
Who is Lord Rennard?
Chris Rennard, 53, has worked for the Lib Dems since his student days in Liverpool
He first gained attention as a local activist and then party agent for former MP David Alton, helping him win successive election victories in the city in 1979 and 1983
He then became campaigns and election director for the whole party, overseeing a host of by-election victories between 1989 and 2003 as the Lib Dems grew in size
He was chief executive between 2003 and 2009, serving three leaders Charles Kennedy, Sir Menzies Campbell and Nick Clegg
He stepped down in 2009 citing ill health and the difficulties of managing a diabetic condition
---
'Snakes and ladders'
Meanwhile, Lady Williams also blamed a lack of media coverage for the Lib Dems's poor performance in the local and European elections. She said the party was not getting more credit for its achievements in the coalition, saying "frankly we get very little coverage".
She said she had "been up and down the snakes and ladders of politics" her whole life that the party would "certainly get back".
"I think we're in the mood to do so and we've certainly got a good story to tell," she said.
Lady Williams added that Mr Clegg was "one of the most upright, decent and hard-working politicians there are".
He added that he was the right man to negotiate if there is another coalition after the next general election.