Winterbourne View: Patient relocation delay 'appalling'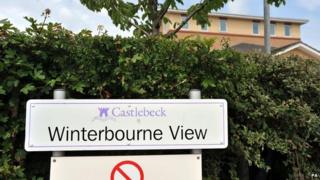 A UK government commitment to rehouse learning disability patients closer to their families is to be missed.
Health officials said people with learning disabilities in England would be moved after an investigation found patterns of serious abuse at the Winterbourne View private hospital.
Patients' families said it was "appalling" Sunday's deadline would be missed.
Care Minister Norman Lamb said he was "deeply distressed" by the delay.
'Appalling failure'
Undercover filming by Panorama showed serious abuse at the hospital near Bristol where six workers were later jailed for ill-treatment and neglect.
Some families complained they had to travel hundreds of miles to visit their loved ones in care.
The government pledged to reform the system, setting a 1 June deadline to relocate thousands of patients. That will not be met.
In a letter to the Daily Telegraph, the families wrote: "Today we have seen the appalling failure of the government, the NHS and local authorities to meet their own deadline for moving people with a learning disability out of places like Winterbourne View."
'Real change'
They added: "The time for talking and excuses is over. The prime minister must take personal responsibility and address this failure of national government, local government and the NHS."
Mr Lamb said: "The terrible abuses at Winterbourne View were a wake-up call across the whole health and care system but progress to bring about change has been unacceptably slow.
"I want to see a real change of pace in the next few months to move people out of institutions where appropriate and, with the right support, back into the community. NHS England has been tasked to develop a clear plan to move things forward quickly."
He said he would investigate the case of 13-year-old Josh Wills, who suffers from severe autism. He is cared for 260 miles from his family.
Mr Lamb added: "It is completely wrong that children with learning disabilities should be cared for so far from home. It is distressing both for them and for their families. The NHS must make sure it provides good-quality care close to people's homes and we are working with the NHS to help this happen.
"I have heard first-hand from Josh's parents about his case and I am appalled that this remains unresolved. I was horrified by what Josh's parents told me and asked for this to be investigated further."