Max Clifford to appeal against indecent assault sentence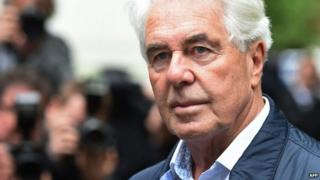 Max Clifford has lodged an appeal against his sentence for indecent assaults against four women and girls.
The 71-year-old was jailed for eight years for assaulting his victims between 1977 and 1984.
His trial heard Clifford used celebrity connections to lure women. His status stopped his crimes being revealed sooner, Judge Anthony Leonard said.
The judge ruled Clifford should serve his eight sentences of between six and 24 months consecutively.
In his sentencing remarks, Judge Leonard reminded the disgraced publicist that the maximum jail term at the time he committed the offences was two years.
But under later legislation passed in 2003 he could have faced 10 years, the judge said, and some of the worst instances would have been charged as rape or assault by penetration, which attract a maximum life term.
In comments before he handed down the sentence, Judge Leonard said he had learned about Clifford standing behind a television journalist who had been reporting on the guilty verdict outside court.
Clifford had "mimicked his actions in a way that was designed to trivialise these events", the judge said.
"I find your behaviour to be quite extraordinary and a further indication that you show no remorse."
He told Clifford the sentence would take into account "this additional element of trauma caused by your contemptuous attitude".