Hacking Trial: Case against former managing editor 'zero'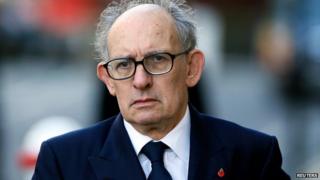 The case against former News of the World managing editor Stuart Kuttner "amounts to zero", his lawyer has told the hacking trial.
Jonathan Caplan QC told the Old Bailey the idea Mr Kuttner knew about hacking because of his position was wrong.
He told jurors the case was crying out for "some sense of proportion" adding: "No-one has been killed".
Mr Kuttner is one of seven defendants on trial in connection with phone hacking. They deny all the charges.
He faces a single charge of conspiracy to hack voicemail messages.
As he began his closing speech to the jury, Mr Caplan asked if the case had become a "political hot potato" and whether police were anxious not to be seen to have "slipped up".
The Old Bailey was "more used to dealing with murder or terrorism", Mr Caplan told jurors.
'Too trusting'
The seven-month trial had been an "unusual" and a "heady mix of royalty, celebrity and politicians", he added.
He said his client's evidence was consistent with a belief that hacking had been a "one off" event.
The court has heard that Mr Kuttner called Surrey Police in 2002 to tell them Milly Dowler's voicemail had been hacked.
He believed the murdered schoolgirl's phone and pin numbers had been provided by her friends, Mr Caplan said.
"If anything sinister was going on he would not have phoned the police", the QC said.
Mr Caplan accepted his client had signed off weekly payments to private investigator Glenn Mulcaire's companies and did not refer the gross annual total to the paper's managing director.
But he had no personal contact with Mulcaire - who has already admitted being part of a conspiracy to intercept voicemails alongside journalists at the newspaper, the defence said.
While he signed-off cash payments in relation to royal editor Clive Goodman's source "Alexander", there was no evidence Mr Kuttner knew it was a codename for Mulcaire, the lawyer said.
Mr Caplan said his client could have been "too trusting perhaps of the newsdesk or Mr Goodman", but that this was "not a crime".
'Rent-a-witness'
Mr Caplan also reminded the court of character witnesses Mr Kuttner had been able to call upon.
They included Sara Payne, mother of murdered eight-year-old Sarah.
Former Archbishop of Canterbury, Lord Carey, also told the trial of his and his wife's "strong friendship" with Mr Kuttner.
And Lord Black, the former director of the Press Complaints Commission has told the court Mr Kuttner had ethics "in his DNA".
If there was a company called "rent-a-witness you would want that trio", Mr Caplan claimed.
The trial continues.