Confidence in police levels-off as fewer see officers on street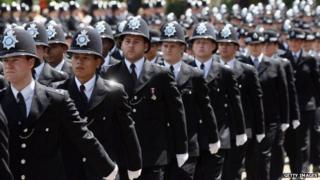 The number of people who have seen a police officer on the beat at least once a week has fallen, official figures for England and Wales indicate.
This fall in police visibility during 2012-13 is the first recorded in official figures since 2009-10.
The proportion of adults who think the police do a good or excellent job has levelled off after rising for a decade, the Office of National Statistics adds.
Overall numbers of police recently fell to the lowest level since 2002.
The slight changes in perceptions of police and overall confidence come after forces have cut their overall numbers, while also attempting to shift a greater proportion of remaining officers to frontline posts.
The figures on confidence in the police come from the Crime Survey of England and Wales, a huge rolling programme of interviews with people about their experiences, irrespective of whether or not they have reported an offence.
In the latest analysis of data from the 2012-13 survey, the ONS said that there had been a decade-long growth in the number of people who felt confident that the police were doing a good or excellent job - but that had now begun to level off.
The figures show a one percentage point fall in overall confidence - down from 75% to 74%. That change is not thought to be significant because statistics often move up and down around a well-established trend.
'Bobbies on the beat'
When the Crime Survey asked people how often they saw police officers, it found that the proportion who reported seeing a bobby on the beat in their local area at least once a week had fallen from 38% to 34%.
This is perhaps a more interesting figure than the question of overall confidence because it will, inevitably, spark a debate about whether the fall in reported visibility has been caused by cuts to overall police strength.
The public first began to report to the Crime Survey that they were seeing more police on the beat in 2009 - and that was also the year forces reached a record strength of almost 144,000 officers across England and Wales. Today, officer numbers are down to their lowest level since 2002 - about 128,000.
At the same time forces have been told very clearly that they must shift more resources into frontline roles. Figures from Her Majesty's Inspectorate of Constabulary show the proportion on the frontline has indeed been going up - but that does not mean that officers are being moved into neighbourhood policing.
Interestingly, the ONS has established that our perceptions of police visibility are linked to public confidence.
When it drilled down into the figures, it found that 69% of people who witnessed high numbers of police on the streets near them concluded that officers were doing a good or excellent job. But people who reported seeing fewer police officers were more likely to have a poorer opinion of their effectiveness.
Experiences of children
The Crime Survey's interviews with 10 to 15-year-olds have also uncovered some interesting facts about how younger people experience crime and how they perceive the police.
Some 16% of boys and 9% of girls had been victims of crime during 2012/13 - and half of those incidents were acts of violence. However, the level of violent crime experienced by under-16s is dropping in line with long-term falls in the overall trend.
The 314,000 personal thefts experienced by this age group will be all too familiar to some families: the most stolen items were a mobile phone, followed by clothing, cash and bikes.
Some 90% of 10 to 15-year-olds believe that police would treat them fairly if they were stopped and searched - a figure that has been static for three years.
The overall proportion of young people who have positive views of the police has risen to 55%. While a further 41% were neutral, only 4% had negative views.
One of the most interesting elements of this research is that as children get older, they are increasingly likely to have a poorer view of the police. Boy were less likely than girls to have positive opinions.