Rolf Harris trial: Daughter's 'anger over allegations'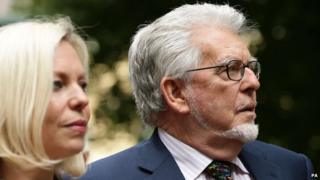 Rolf Harris's daughter smashed two of his paintings in anger when she first heard claims he had sexually abused one of her friends, a court has heard.
The 84-year-old TV entertainer said Bindi Harris had been "beside herself" after her friend made the allegations.
Southwark Crown Court heard Bindi confronted him in a phone call.
Mr Harris denies 12 indecent assaults between 1968 and 1986. He says he had a consensual relationship with the friend when she was an adult.
Seven of the counts relate to the friend of his daughter.
The friend claims he first assaulted her when she was 13 while on holiday, but Mr Harris, from Bray, in Berkshire, contests this.
---
In court
Sarah Falkland, BBC News
It's 9am on day 13 of the Rolf Harris trial and the press are photographing the entertainer arriving at court with his wife Alwen and daughter Bindi.
Mr Harris has told the jury it was a way for his family to "show support".
But the court has heard how furious Bindi was when a friend first told her Mr Harris had abused her from the age of 13. She was so angry she smashed two of her father's paintings.
Sasha Wass QC has been determined and robust in her cross-examination, at times wagging an accusatory finger at Mr Harris.
Earlier on, he was so softly spoken the judge had to ask him to raise his voice.
He has been batting off the prosecution's suggestions - at one point even suggesting Ms Wass was not listening to him.
"I never met Tonya Lee, " he insisted, referring to an alleged victim who has waived her right to anonymity.
"So you keep saying," was the prosecutor's retort.
---
On his third day in the witness box, Mr Harris said his daughter had not confronted him "face to face" but over the telephone when the friend told her of the alleged offences several years after they are said to have taken place.
In cross examination, Prosecutor Sasha Wass QC asked Mr Harris why he did not tell his daughter that nothing happened with her friend until she was 18.
However, Mr Harris said he could not remember what he told his daughter during that conversation.
'Affectionate'
The prosecutor said Bindi Harris was "beside herself with shock" when she found out what was alleged, which Mr Harris agreed had been the case.
He added: "I don't recall her being angry with me in person but I recall her breaking some paintings I had given her so I assumed she was very angry."
Giving evidence for the defence, a friend of Bindi's told the court the Harris family were "warm with each other - very loving, very cuddly, very giggly".
Lonneke Broadribb, Bindi's friend from primary school into their teens, said Mr Harris had never behaved inappropriately towards her or made her feel uncomfortable.
She said he would greet people with a "big cuddle or a kiss" but that it was affectionate; not sexual.
'All lies'
Mr Harris also denied ever meeting alleged victim Tonya Lee, who has waived her right to anonymity.
The Australian woman said Mr Harris assaulted her while she was on a theatre group trip to the UK in 1986, when she was 15.
But he told the jury: "I can't imagine why she would say that, but it's all lies."
He also said another woman who claims she was groped at a community centre in Portsmouth while getting an autograph from him was "lying".
Mr Harris said: "It never happened, I wasn't there. I wasn't there, she must be making it up."