Hacking trial: Sale of royal phone books 'storm in teacup'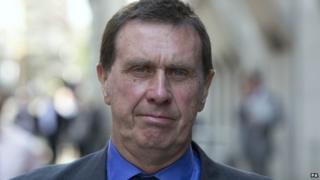 The sale of royal telephone directories to the former royal editor of the News of the World was a "storm in a teacup", the Old Bailey has heard.
Clive Goodman's lawyer told the phone-hacking trial that the directories contained almost "no private information at all".
Mr Goodman, 56, denies conspiracy to commit misconduct in a public office.
He is accused of paying a royal police officer for internal directories and "green books" - palace contacts lists.
The former royal editor is one of seven people, including former News of the World editors Andy Coulson and Rebekah Brooks, currently on trial for various offences related to hacking. They all deny the charges against them.
Giving his closing defence speech, Mr Goodman's lawyer, David Spens QC, told the jury: "If you think that counts two and three are no more than a storm in a tea cup, then you must say so."
'No numbers hacked'
He said the "more restricted" palace green books contained only a limited number of mobile phone numbers, including those for the chief helicopter pilot and a horse bloodstock adviser.
None of the mobile numbers contained in the green books had been hacked, Mr Spens said.
The lawyer also said emails from Mr Goodman to Mr Coulson asking him to authorise payment for the books were the "only evidence that the green books were supplied by a police officer".
Reference in the emails to a royal police officer was only made to "exaggerate" the status of the source, Mr Spens said.
This was to ensure payment to the source, which would mean he would be "more likely" to come back with other stories, he said.
As well as Mr Goodman, Mr Coulson and Mrs Brooks, former News of the World managing editor Stuart Kuttner, former head of security at News International Mark Hanna, Mrs Brooks's husband Charlie Brooks and her executive assistant Cheryl Carter are on trial in connection with phone-hacking.
On the 120th day of the trial on Tuesday, judge Mr Justice Saunders said he planned to begin his summing up on 4 June.
Meanwhile, the jury was reminded that Mr Goodman had served four months in prison for phone hacking royal aides in 2007.
'Dragged into hacking'
Referring to his evidence in this trial, when Mr Goodman said he originally said he "could not remember" carrying out any other hacking, Mr Spens told the jury that Mr Goodman was "fearful of being charged and prosecuted for these extra hacks".
It was only after the Crown Prosecution Service informed Mr Goodman that he would not be prosecuted for these "extra hacks" that he admitted hacking princes William and Harry and - the then - Kate Middleton.
As far as phone hacking was concerned Mr Goodman had been "dragged" into the hacking part of the trial, even though he was not charged with that offence, Mr Spens said.
He also told the jury that of those in the dock, "the only person [Mr Goodman] has said he knew was involved in phone hacking is Andy Coulson, he has not said that about Mrs Brooks or Mr Kuttner".
Mr Spens told the jury that Andy Coulson's lawyers would describe Clive Goodman as "resentful" and "vengeful" in their closing speech but that this suggestion was "farcical."
The former royal editor and Mr Coulson deny paying police officers for the royal directories. Mr Coulson also denies conspiracy to hack voicemails.