Police Federation elects Steve White as chairman by coin toss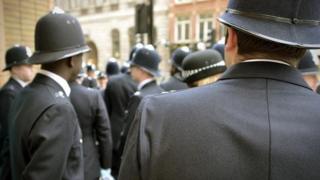 The Police Federation of England and Wales has elected a new chairman by the toss of a coin.
The 30 members of the voting committee were split between Steve White, an Avon and Somerset Police inspector, and Will Riches, a constable with the Met.
The federation has faced accusations of bullying and a lack of transparency and the home secretary told it to change.
Mr White 45, has pledged to continue the reforms proposed by outgoing chairman Steve Williams.
These include the abolition of separate rank committees (constables, sergeants, inspectors) and a 25% cut in subscription fees, to be funded by reserves.
Mr White is the current vice-chairman of the Police Federation, which represents 126,000 rank and file officers.
His appointment comes after Mrs May told the conference the federation needed to changed "from top to bottom" and she was removing the group's state funding in August. She also said new officers would no longer automatically become members.
Officers attending the conference passed a motion calling for reform.
They said they accepted the principles of an independent review set up in the wake of the "plebgate" affair, which led to the resignation of former government chief whip Andrew Mitchell.
The federation has also been subject to allegations of widespread bullying and intimidation among its leadership.
'Clear mandate'
Mr White's 26-year police career includes working as a firearms response officer, motorway police supervisor and in VIP protection.
He said he was honoured to have been elected at "such a pivotal time".
"We have been given a clear mandate to progress the reforms needed to better represent the hard working police officers," he said. "We are all committed to the work needed to implement change."
The Police Federation confirmed Mr White was chosen on the toss of a coin "in accordance with the election rules".
Five other men have been selected for the other leading posts in the federation. They include Andy Fittes, who is replacing Ian Rennie as general secretary.
Both Mr Williams and Mr Rennie announced in April they would retire in late May after "a turbulent period" for the Police Federation.
Earlier this week, Steve White denied claims he had been bullied by Mr Rennie.
An official complaint was made by another officer present at a federation meeting in March.
Mr White said he was "neither bullied or harassed and, as such, made no formal or informal complaint".