Teenager 'developed eating disorder after Harris assault'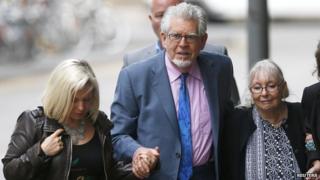 A teenage girl developed an eating disorder and abandoned her dream of becoming a theatre star after Rolf Harris abused her, a court has heard.
Australian Tonya Lee, who has waived her right to anonymity, said she was on a theatre trip to the UK in 1986 when the veteran entertainer fondled her.
She told Southwark Crown Court that the abuse left her feeling depressed, like she "didn't have a place in the world".
Mr Harris, from Bray, Berkshire, denies 12 counts of indecent assault.
He is accused of assaulting a total of four girls in the UK between 1968 and 1986, when they were aged between seven or eight and 19.
Three of the counts relate to Ms Lee.
Ms Lee, now 43, said she was 15 when Mr Harris invited her to sit on his lap, before moving his hand up her leg and assaulting her.
The musician, artist and TV presenter is said to have met the girl and her group at Heathrow Airport, later going with them for dinner at a pub.
It was there that he is alleged to have carried out the assault.
Ms Lee told the court that the incident left her "petrified" and that she "stopped eating" and would "throw up" during the six-week theatre trip.
She said she lost weight as a result.
'Lost passion'
"I became very depressed," she told the court of her return home from the trip.
She stopped going to her theatre group, she said.
"I just wasn't there any more, I'd lost that passion, I'd lost that desire.
"There were days when I'd be lying in bed and I'd find it difficult to function. My schoolwork started to suffer. I just didn't feel like I really fit in anywhere. I used to feel like I didn't have a place in the world."
Describing the alleged assault, Ms Lee said she could feel "some movement" beneath her as she sat on Mr Harris's lap.
"He was moving back and forth rubbing against me," she said. "It was very subtle, it wasn't big movements. Everything just seemed to be going on as normal."
The jury heard that Mr Harris patted her on the thigh. Ms Lee said he then "began to move his hand up my inner thigh".
She said she felt "very uncomfortable" when Mr Harris touched her genitals over her clothing.
She said she "started to panic" and rushed off to the toilet.
"I was wondering what to do... and also I was confused," she said.
"The whole time this was happening just normal interaction was going on."
Waiting outside
Ms Lee said she decided not to speak out at the time because the theatre group's artistic director, Kathy Henkel, was a friend of Mr Harris's.
She said when she came out of the toilet Mr Harris was waiting outside and gave her "a big bear hug".
He then put his hand down her top, fondling her breast, she said.
"I was petrified... I was in shock," Ms Lee said.
She said she thought no one would believe her if she said anything "because it was Rolf Harris".
Ms Lee said she became "an empty vessel" after the alleged assaults and developed an eating disorder, causing her to lose weight.
She said she "stopped eating" and would "throw up" during the six-week UK tour.
The case continues.