Syria conflict: First Briton convicted of terrorist offences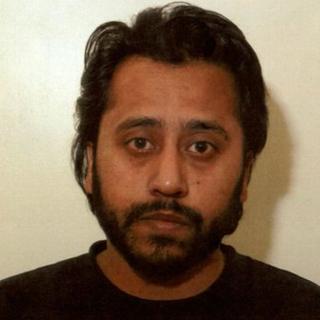 A 31-year-old man from Portsmouth has become the first person in the UK to be convicted of terrorist offences in connection with the conflict in Syria.
Father-of-two Mashudur Choudhury was convicted of engaging in conduct in preparation of terrorist acts.
The court heard he had travelled to Syria to attend a terrorist training camp. He was arrested at Gatwick Airport on his return to the UK.
Choudhury had told the court he wanted to emigrate to avoid problems at home.
Prosecutors at the trial at Kingston Crown Court said Choudhury had wanted to be trained in the use of firearms and intended to pursue a "political, religious or ideological cause".
They said he had discussed his wish to become a "martyr". He is due to be sentenced on 13 June and has been warned he faces a substantial sentence.
Earlier this month, the EU's anti-terror chief said hundreds of Europeans were now fighting with rebel forces in Syria against Bashar al-Assad's regime.
In March, police arrested four people on suspicion of Syria-related terror offences.
Analysis
By Dominic Casciani, BBC home affairs correspondent
The jury took little over a day to find that Mashudur Choudhury's actions were a crime because it concluded he had sought to violently intervene in Syria for an ideological cause - and his specific actions fell within the UK's definition of terrorism.
So security chiefs will regard the conviction as vindication of their tough Syria strategy and they hope it will discourage others from travelling.
The result does not mean that future trials will have the same outcome - they will each turn on the individual facts.
The outcome also raises another question: what will happen to the large numbers of British men still in Syria? Will these men ever come back?
And if they do, will they all end up in court or will the government find other means of challenging their views and reintegrating them into normal life?
Skype calls
The court heard that Choudhury left the UK on 8 October 2013, travelling on a commercial flight to Turkey alongside four other men from the Portsmouth area.
He later travelled on to Syria, although prosecutors said it was not known what he had done there.
He was arrested on his return to the UK later that month.
Prosecutors said that before his trip Choudhury had been in regular contact via Skype with another man, Ifthekar Jaman, who had already gone to Syria.
The jury heard how Mr Jaman had been interviewed over Skype by a journalist from the BBC's Newsnight programme in which he admitted he was fighting in the country.
Prosecutors said that during the Skype exchanges Choudhury, a former youth worker, had asked Mr Jaman about weapons training and buying a handgun.
Mr Jaman, who is believed to have died fighting in Syria, told him his training would last between one and six weeks.
'Cocktail of high risk'
Assistant Chief Constable Brendan O'Dowda of the South East Counter Terrorism Unit, welcomed the verdict.
He said: "Today's conviction sends out strong message to anyone considering engaging in terrorist activity, be that in the UK or overseas, that we will pursue you and your networks.
"He has hid behind a history lies in an effort to misdirect and frustrate our investigation.
"The ongoing conflict in Syria is terrible for us all to see. Great sympathy is felt for those victims of that conflict.
"If anyone has a genuine desire to help then they are encouraged to offer aid and support by donating through charities supporting the relief operation.
"Syria is a very dangerous place - best described as a cocktail of high risk and threat.
"Anyone thinking of travelling to fight jihad against the Assad regime, think again.
"You are likely to be killed or kidnapped and if you return to the UK you are highly likely to be arrested."
Superintendent Ali Heydari, Portsmouth Commander of Hampshire Police, thanked the Muslim community for their support in what he described as a "unique case".
He said: "We have very good relationships with key figures within the city and work with them to share information. We all have a common aim to prevent radicalisation in all forms.
"In this case we received information from the community which was acted on and led to today's result.
"We are working very closely with partner agencies in Portsmouth to implement the national Prevent programme.
"This involves supporting those who may be vulnerable to radicalisation and helping to prevent people from travelling overseas to become involved in conflict and terrorist activity."