Phone-hacking trial: No smoking gun, says Brooks lawyer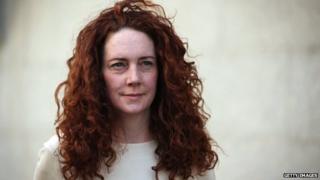 There is "no smoking gun" to link former News of the World editor Rebekah Brooks to phone hacking, a jury has heard.
Mrs Brooks' barrister told the Old Bailey on day 118 of the trial that the prosecution case was "entirely circumstantial".
Jonathan Laidlaw QC said no edition of the paper she edited had contained a story obtained via phone hacking.
Mrs Brooks denies four charges including conspiracy to hack phones.
She is one of seven defendants, who all deny allegations linked to phone hacking, illegal payments to public officials and attempts to hide potential evidence.
Mr Laidlaw suggested the prosecution had been able to point to only one story "sourced to hacking" in her time as editor of the paper.
He said that instance was in relation to murdered teenager Milly Dowler, "published when she was thousands of miles away, on holiday in Dubai".
Mr Laidlaw also criticised the strategy of the police and prosecution, telling the court that they had constructed their case against Mrs Brooks on the basis of "theory first and evidence later".
The jurors were also urged to ignore the "downright cruelty and vitriol" surrounding the case when considering their verdicts.
Mr Laidlaw invited the jury to imagine viewing the trial as a loved one in the public gallery.
He said: "From up there you would worry about the possible impact on the jury. Can anybody be independent enough, strong enough, to avoid being influenced?
"Your fear would be whatever is done and achieved for her from the courtroom, she is starting at a disadvantage some yards behind the starting line and cannot win.
"Worse still, as you watch this trial unfold you have seen the prosecution construct a case not on direct evidence but around inference."