Missing yacht: US Coast Guard 'did all it could'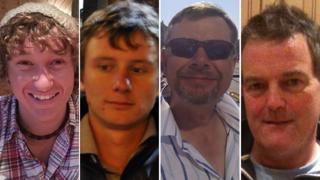 The UK coastguard says it believes its US counterpart has done everything it could in the search for four Britons missing after their yacht apparently capsized in the Atlantic Ocean.
The Cheeki Rafiki got into difficulties 620 miles (1,000km) east of Cape Cod in Massachusetts on Thursday.
The search was called off by the US Coast Guard on Sunday.
The families of the crew have called for the operation to resume, while experts said the men could be alive.
The four crew members are Paul Goslin, 56, from West Camel, Somerset; skipper Andrew Bridge, 22, from Farnham, Surrey; Steve Warren, 52, also from Somerset, and 23-year-old James Male, from Southampton.
The men were sailing back from a regatta in Antigua when the boat began taking on water and diverted to the Azores. Contact was lost early on Friday. It is thought they could have moved to a life raft after capsizing.
'Push this message'
The families say they are to meet Foreign Secretary William Hague later.
Graham Male, whose son James is one of the missing men, earlier told the BBC he wanted Prime Minister David Cameron to intervene.
"What we'd really like to do is get to David Cameron himself and really try and push this message that as a country we're known to pull the stops out for our own nationals, we should be getting someone out there now to help them."
Health Secretary Jeremy Hunt, the MP for another of the men, tweeted that it was too soon to give up and a petition urging authorities in the US to continue the search has amassed more than 150,000 signatures.
But a spokesman for the US Coast Guard had said the men could only have survived for about 20 hours after the "time of distress".
Fully briefed
And a spokesman for the UK government said on Tuesday that the US service had been "open and collaborative throughout".
The spokesman added: "They have assured us that they did everything they could, and would have done exactly the same for US citizens.
"This included an air search of over 20 sorties, involving three different aircraft, conducted for twice as long as their standard procedures required, in very difficult and challenging weather conditions."
Keith Oliver, head of Maritime Operations with HM Coastguard, said: "Based on the information provided to us, we believe that the US Coast Guard has done all they can to locate the stricken yacht and her crew.
"Our thoughts are with the family and friends of these four sailors at this extremely difficult time."
The families themselves have praised the US Coast Guard, but urged it to do more.
Mr Goslin's daughter, Claire, thanked the service for its "fantastic" work so far.
"But I know what Dad's like," she added. "He will be doing anything in his power to make sure he and his fellow three crew mates are safe.
"Don't give up; they need your help."
Mr Goslin's wife, Cressida, said the search should be resumed for a couple of days, adding: "We just feel that they're not being given a chance.
"If we don't try to rescue them we're just going to leave them to starve to death."
Mr Male's father, Graham, told ITV Meridian: "They waited until the first beacon had run out before they actually set the second beacon - that's rational-thinking people."
And Mr Bridge's mother, Mary, said: "I'm a bit numb, actually. We wanted him back.
"We know they've worked hard for two days but my husband and I and my other son and the other families all wish them to resume the search for these four men."
Kay Coombes, sister of Steve Warren, said: "They are four strong-minded, physically strong sailors, they knew they were in difficulties and had every opportunity to get into the life raft which would have had provisions for several days.
"But if no-one is looking for them, they won't be found."
Possible sighting
The US Coast Guard said locator beacons activated by the crew indicated they were in a position 1,000 miles east of Massachusetts on Friday morning.
The yacht was facing 15ft waves, 50mph winds and sea and air temperatures of 15C (60F), the US Coast Guard added.
A spokesman said it had "saturated the area" in a two-day search involving three US and Canadian aircraft and three merchant vessels and "we would have found them" if it had been possible.
On Saturday, a cargo vessel which was helping with the search spotted and photographed an overturned hull which matched the description of the Cheeki Rafiki.
But when he called off the hunt on Sunday, Capt Anthony Popiel said: "Based on the extreme conditions at sea, but assuming best-case emergency equipment, the estimated survival time past the time of distress was approximately 20 hours. Crews searched for 53 hours."
And a further spokesman for the service said on Monday that unless there were "new developments about the case" the search would not be resumed.
A number of well-known figures have added their voice to calls for more to be done.
Sir Richard Branson said: "People have been at sea for a long period of time in life rafts before and have turned up alright".
Yachtsman Tony Bullimore, who survived five days at after his boat capsized in the Southern Ocean in 1997 has signed the petition calling on the US Coast Guard to resume its search.
He said there was "every opportunity that they could still be out there".
Television presenter Ben Fogle, who rowed across the Atlantic, said: "We've heard too many stories over the years of shipwrecked sailors found in tiny rafts."
The 12-person life raft they are believed to have had on board would typically be 1.66m high and 3.3m across.
Alistair Hackett, from suppliers Ocean Safety, said it would have probably have had one litre of water per person on board, as well as survival equipment such as flares and thermal protective suits.
'Highly unlikely'
However, oceanographer Simon Boxall from the University of Southampton said: "It is highly unlikely, beyond reasonable doubt, that they would have missed a life raft; they are bright red or bright orange.
"And if the people were in a life raft and were aware there were rescue aircraft, they would have had distress flares and beacons on board and they would have deployed them."
The Royal Yachting Association said typical supplies on a life raft would include survival suits, water, food, flares and a first aid kit.