Chelsea Flower Show: Getting youths into gardening
By Liam Allen
BBC News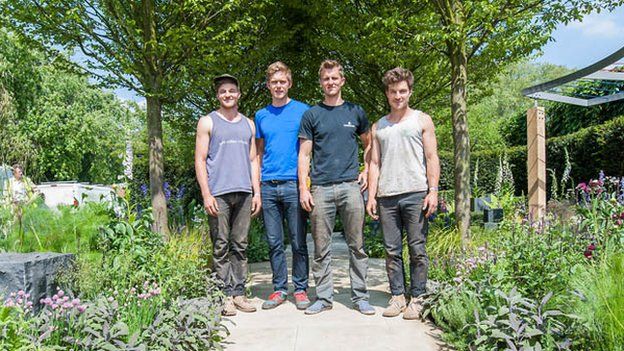 The line-up of designers at this year's Chelsea Flower Show suggests a blossoming youth policy.
The hardy perennials are led by Alan Titchmarsh, 65, celebrating 50 years as a professional gardener with his From the Moors to the Sea.
But an unprecedented three show gardens have been created by designers aged under 30.
They include Vital Earth: The Night Sky Garden by Chelsea's youngest designer David Rich, 23, and his brother Harry, 26. Their garden, which will be moved to Beechwood Autistic College after the show, is inspired by star constellations.
Not everything in the garden is rosy, however.
Organiser the Royal Horticultural Society (RHS) says gardening is facing a skills crisis because of an ageing workforce and a lack of young people coming through.
Hugo Bugg, 27, is competing against the Rich brothers with his RBC Waterscape Garden - Embrace The Rain, an illustration of global water issues which also shows practical solutions for dealing with storm water.
He says perceptions need to change.
"If you know it's a profession and you can get a good income or salary from it, and that people will respect you, then more people will get into it."
The main problem is that "there's not a huge amount of people going straight from schools to university to study garden design - it's not one of the highest-demand courses", he says.
Not all children can enjoy the same introduction to gardening as Bugg - "on a very wild garden where I spent my whole youth helping the family".
But "there are still parks, there are still backyards", he says.
"There's plenty of organisations that do community grow-your-own schemes. There are opportunities out there."
Thirteen-year-old Core Stone, a pupil of Thistley Hough Academy, Stoke-on-Trent, agrees.
Core, who helped to create the Positively Stoke-on-Trent show garden - designed by a team from his city council - says he developed that love when he used to have a garden.
Now, he says, "I stick to basic gardening and just water plants if there are any there that need watering".
But in the future he anticipates keeping gardening as a hobby because he would prefer "a bigger career".
Fellow pupil Molly Bishop, 13, meanwhile, says: "I would say this garden was inspirational and I would take it further.
"From this I've seen what you can actually do by just gardening - like the flowers and stuff."
Twenty-six-year-old fine art graduate Kate Savill - an apprentice who works for the Homebase Garden Academy - has been helping top designer Adam Frost with his show garden.
She says seeing the designs "initially on paper and then to be stood in front of it is quite an honour - we've learnt so much".
The Time To Reflect garden, sponsored by Homebase in association with the Alzheimer's Society, is "an ornamental wildlife-friendly garden designed to remind families of the power that memories can evoke".
"I think there's not enough steering of younger people in this direction and maybe not making them quite aware enough that there's so many different careers in horticulture," she says.
The RHS agrees, saying 80% of schoolteachers are unaware of the "vast career opportunities available".
And it is raising funds at this year's Chelsea Flower Show to create more jobs at its gardens in Wisley, Surrey; Harlow Carr, North Yorkshire; Hyde Hall, Essex; and Rosemoor in Devon.
Veteran gardener and TV presenter Alan Titchmarsh says that - and the inclusion of young designers at this year's shows - is an example of green shoots in the push to attract young people into horticulture.
"We're getting there - I hope we're getting the message through that it's a career," he says.
"And parents need to just make sure our children are in contact with the great outdoors.
"Take them out on spring and summer days. If you introduce them to the great outdoors, they'll run with it."
Matt Keightley, 29, another young contender for the show gardens prize with his creation Hope On The Horizon, agrees things are looking up.
His garden, inspired by his brother's experiences while serving in Afghanistan, symbolises the recovery of injured soldiers. It is the first show garden he has designed.
"I think there's a stigma around the industry that it's for old ladies and boring old blokes," he says.
"But the future is looking 100% brighter."
He says many people think of Chelsea as "a bit of a clique".
"So the fact they've opened the doors to the likes of us guys can only be a positive."
And he says there's a simple way to get children and young people into gardening.
"Get them off the bloody PlayStations - get them outdoors."
Related Internet Links
The BBC is not responsible for the content of external sites.