Migrants 'able to buy' language test pass certificates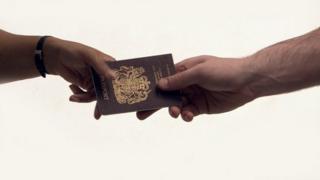 The Home Office is investigating claims that migrants who cannot speak English have been able to buy documents saying they have passed a language test.
The Daily Mail said secret filming at one test centre in London showed that certificates were sold for £500 each.
Home Office staff searched a Learn Pass Succeed (LPS) school in Upton Park, east London on Saturday.
Immigration Minister James Brokenshire said the government took any allegation of fraud extremely seriously.
"We will take the strongest possible action against anyone who is found to have abused the rules," he said.
He said this included the possibility of criminal prosecutions for fraud.
Ofqual, the examinations watchdog, said it was aware of the allegations and was urgently seeking further information.
The English for Speakers of Other Languages (ESOL) qualification tests speaking and listening skills.
It is awarded by a number of different providers and is compulsory for non-English speakers applying for British citizenship.
Guaranteed pass
The Daily Mail investigated a branch of the LPS group in Upton Park following a tip-off from a whistleblower.
It said applicants there could obtain a guaranteed pass for the Entry 3 Level ESOL exam for £500 - more than three times the usual cost.
It alleged that candidates did not have to attend the centre, take any classes or sit the test themselves.
Staff at the centre allegedly used a fake candidate to take the oral part of the test and completed written sections themselves.
'Wrong and ridiculous'
Uzwan Ghani, a director of LPS, which has four branches in London, said the problem was confined to the Upton Park branch and the group was suspending exam results from the centre.
"I'm shocked that this has happened and am very concerned as to how it could have happened," he was quoted by the Mail as saying.
"We are very thorough when it comes to checking IDs of candidates before they take the test, so I will have to investigate which of the centres the test was taken in and who the assessor was.
"I've been in the business for five years and I've never come across something like this and I would not allow it. It is wrong and ridiculous."
The Mail also quoted an unnamed manager at the LPS Upton Park branch who said: "Malpractice happened in this centre. There is no denying it. We're holding our hands up to it.
"It's not something that happens frequently but it has happened."
'Shambles'
Shadow immigration minister David Hanson said the government's management of the immigration system was "turning into a shambles".
"The language test is vital and it's incredible that stricter controls have not been put in place," he said.
"I have written to the minister to ask for a full investigation and report to Parliament."
Mr Brokenshire said the ESOL certificate was "just one element of a wide range of evidence required by individuals applying for settlement and citizenship.
"Nobody can gain a UK visa on the strength of this qualification alone."