'Jail for a day' call in bid to cut reoffending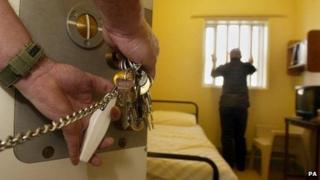 Threatening offenders with "a day or two in prison" if they breach a community order would cut rates of re-offending, a think tank has said.
The Centre for Social Justice (CSJ), set up by cabinet minister Iain Duncan Smith, urged the government to look to the US where the approach had worked.
A third of people given community sentences re-offended within a year, its report said.
The Ministry of Justice said it was determined to reduce re-offending.
Community sentences, where an offender is spared jail, range from 300 hours unpaid work to voluntary addiction treatment or having to make amends to a victim.
But the CSJ said the system was regarded by offenders as a "laughing stock".
Putting those who breach a community order in jail for a short time would restore credibility, it claimed.
'Breaking the rules'
The CSJ report found 17,066 people had their sentence in the community scrapped because they failed to comply with requirements.
And it said almost 28,000 offenders given community orders had at least 15 previous cautions or convictions.
"Many prolific offenders are refusing to take their punishment and rehabilitation seriously and are getting away with it," deputy policy director Edward Boyd said.
He pointed to the Swift and Certain programmes in the United States, which it claimed had cut reoffending "by up to 50 per cent".
In 20 American states, offenders who fail to turn up for community work can be seen by a judge that day and imprisoned for up to three days.
"This approach is slashing reoffending rates as offenders realise they can't get away with breaking the rules," Mr Boyd added.
Justice Minister Jeremy Wright said the report highlighted "unacceptably high" recidivism among offenders.
"We are making changes that will mean they will have to contain an element of punishment, such as a curfew or community service, when imposed on adult offenders," he said.
"Anyone who refuses to complete their community sentence can expect to be hauled back in front of a judge and face further punishment."
Community sentences can be given for crimes such as damaging property, benefit fraud and assault.