Review launched as sex offence convictions drop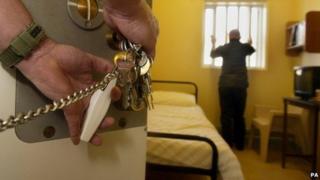 The conviction rate for sexual offences in England and Wales dropped sharply in 2013, Ministry of Justice figures show.
Of 10,365 people prosecuted for this kind of offence in 2013, 55% pleaded guilty or were found guilty - down from 61% of those prosecuted in 2012.
An investigation into the decline is to be launched by police and prosecutors, the BBC understands.
The figures also show 20 people were cautioned for rape in 2013 - up by four compared with 2012.
Of these, 17 were boys aged under 15; two were boys aged between 15 and 17; and one was a man.
All the victims in the cases were aged under 16.
Shadow home secretary Yvette Cooper said it was "alarming" that conviction rates for sex offences were falling at a time when the number of recorded offences was "rising sharply".
She said Labour had warned the prime minister and Home Secretary Theresa May that there was a "growing justice gap" and that "more serious criminals are getting away with their crimes without facing prosecution or the courts - let alone conviction".
Ms Cooper added: "It's time the home secretary took action to make sure victims get the justice they deserve."
Falling conviction rate
The figures also reveal that the overall number of people prosecuted for all offences has fallen to its lowest level for more than 40 years.
Last year, 1.4 million people were taken to court, fewer than at any time since at least 1970 when 1.6 million suspects were prosecuted.
The decline has coincided with a rise in the use of cautions and reprimands, though the number of such out-of-court disposals has dropped steeply over the last decade.
All crimes recorded by police are also at their lowest level for more than 10 years.
The total number of prosecutions for sexual offences was up, with 988 more cases than in 2012, the figures show.
MoJ statisticians said the drop in the conviction rate coincided with a rise in the number of sexual offences waiting to go to court.
A spokesman said: "This increase could be because of the nature of these types of cases, meaning that more time is often spent building a case for the prosecution or defence, than with cases involving other offence groups."
The review, which it is understood will commence in the next few weeks, will also examine why the number of referrals of rape allegations from police to prosecutors has dropped.
'Startling'
Figures obtained from a parliamentary answer in October showed police sent 5,404 cases to the Crown Prosecution Service in 2012-13 but received more than 17,000 reports of rape.
A spokeswoman for the CPS confirmed it had been working with the Association of Chief Police Officers (Acpo) for "many months" to investigate the reasons behind the drop in the number of rape cases referred by police to CPS.
"As part of this longstanding piece of work, a meeting was held between police and prosecutors in September and a joint national rape scrutiny panel was convened in April to analyse the drop in referrals," the spokeswoman said.
"A joint CPS/police action plan resulting from this ongoing work on referral rates, but looking at all aspects of prosecuting rape cases from investigations to prosecutions and trials, will be published shortly.
"It will set out a number of actions for police and prosecutors to improve the way these cases are handled. The specific actions will be announced in due course."
Meanwhile, Peter Cuthbertson, director of criminal justice campaigners the Centre for Crime Prevention, said serious cases should be brought to trial even if the chance of conviction was low.
"The key is to ensure tough sentencing for those offenders who are found guilty in order to protect the public," he said.
Independent charity Victim Support described the fall in conviction rates as "startling".
Assistant chief executive Adam Pemberton said: "It's critical that victims are not put off coming forward by these statistics and that they are aware of the support services available to them through our Witness Service before during and after the trial."