Rolf Harris said 'two to tango' over abuse claim, girl's brother says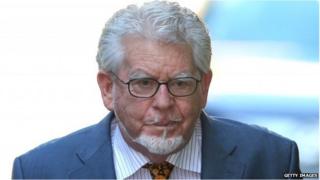 Rolf Harris said "it takes two to tango" when confronted with claims of sex abuse, the brother of one of his alleged victims has said.
The man told Southwark Crown Court the comment was made after he phoned Mr Harris and threatened him with "physical violence".
The court has heard Mr Harris admitted an affair with the woman but denied it started while she was under age.
Mr Harris, 84, denies 12 charges of indecent assault between 1968 and 1986.
He is accused of assaulting four girls, aged seven or eight to 19 at the time of the alleged offences.
Seven of the charges relate to the woman whose brother has been giving evidence at Mr Harris's trial.
The brother, who cannot be named for legal reasons, told the court he phoned Mr Harris after his sister told him about the alleged abuse.
"I told him why I was angry. I said 'you have abused my sister sexually'," he said.
"He said 'it takes two to tango'."
'Trusted him'
The alleged victim's mother told the jury she remembered Mr Harris going upstairs to see her teenage daughter during visits to her home.
She said she was friends with Mr Harris's wife Alwen and her daughter was friends with their daughter Bindi, and the couple would occasionally come for dinner parties.
The mother said she recalled one occasion when Mr Harris asked where her daughter was, then went to a sitting room to see her for between half an hour and an hour.
"I remember it once and I think there were other occasions," she said.
She said her daughter was 14 or 15 at the time and she thought Mr Harris going upstairs was "odd" but said she "trusted him".
Asked if she had wondered what had been happening when Mr Harris went into the room with her daughter, she said: "It was something that you didn't think about really."
The alleged victim earlier told the court she started drinking alcohol at the age of 14 to cope, and her mother told the jury she was unaware of the alleged abuse until her daughter was an adult and she confronted her about her heavy drinking.
"She told me she had been abused all her life, which made me very angry," the mother said.
She said she was "completely amazed" by what her daughter told her, although she would not say who the man was.
She added: "But I would not budge until she told me. She then said, 'Rolf'."
The alleged victim's father told the court he was "absolutely devastated and really couldn't believe it" and was "very, very angry" with Mr Harris.
'Dirty old man'
"I wrote him a letter expressing my disgust and saying that I really didn't want to speak to him or have anything to do with him again," he said.
Another of the alleged victim's brothers also gave evidence, saying he "didn't dissuade her" when she said she "felt ready" to call the police, which he said happened two or three years ago.
Earlier, a former school friend of the same alleged victim said her friend told her Mr Harris was a "dirty old man".
She said the conversation took place when they were both about 16, and the alleged victim told her Mr Harris would make her sit on his lap so he could "feel her up".
The woman said she was "horrified" and told her parents, but did not think it was her place to call the police.