Dog attacks to be punished with longer jail terms for owners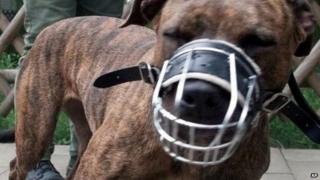 Tougher penalties have come into force for dog owners in England and Wales who allow their pets to attack people.
The maximum prison sentence for allowing a dog to carry out a fatal attack on a person has increased to 14 years from two years previously.
Allowing a dog to cause injury can now be punished by five years in prison, up from a previous maximum of two years.
Animal welfare minister Lord de Mauley said it was "only right" owners should face tough punishments after attacks.
"Irresponsible dog owners will not only face longer prison sentences, but will also be liable for prosecution regardless of where an attack takes place, even in their own home.
"This will give protection to those who provide vital services in the community - postal workers, nurses, utility workers - as well as people visiting family and friends."
Training classes
For the first time, the Dangerous Dogs Act also includes a specific provision to protect assistance dogs such as guide dogs from attack.
Owners found guilty of allowing an attack on an assistance dog could be jailed for up to three years.
New preventative powers will allow the police and local authorities to send owners to dog training classes and require dogs to be muzzled in public.
Guide Dogs chief executive Richard Leaman said: "An attack on a guide dog can be devastating. It can rob someone with sight loss of their independence and freedom, leaving them virtually housebound.
"We're delighted that irresponsible owners can now be given tougher sentences if their dog attacks an assistance dog.
"With an average of 10 guide dogs being attacked every month, we're looking to the police to fully use their new powers to protect vulnerable people from these sometimes life-changing attacks."
Trevor Cooper, from the Dogs Trust, said he hoped the changes would encourage owners to be "more cautious", but said tougher sentences were "not the solution". He called for a greater emphasis on prevention and education
"What it will do principally is to punish after the events [when] we would rather there wasn't the event," he told BBC Radio 5 live.
Dee McIntosh, Battersea Dogs and Cats Home's director of communications, added: "We believe if more people understood how to care for and be around dogs, there would be far fewer tragic incidents.
"Dog attacks tear apart our communities and affect how we feel about pets and specific dog breeds.
"Any dog, no matter what size or breed, can attack a child, adult or another dog. Training and caring for an animal, and being able to clearly read a dog's body language, are the only ways to help provide safety for the likely victims of attacks, especially children."
'Disgusted'
It comes after Jade Anderson, 14, died on 26 March 2013 at a house in Atherton, near Wigan, after being mauled by four dogs.
In October, Beverley Concannon the owner of the four dogs was given a 16-week suspended jail term after admitting causing suffering to the four animals.
Jade had been at Concannon's house visiting a teenage friend when she was fatally attacked and her family later said they were "disgusted" the dog owner had been given a suspended sentence.
In another case, in May 2013, 79-year-old Clifford Clarke from Liverpool was mauled to death in his own garden by a bull mastiff cross that had escaped from its owners' care.
At the trial of the dog's owners earlier this month, Liverpool Crown Court heard that Mr Clarke was attacked when he opened his back door after cooking to air the kitchen.
The owners admitted allowing their dog to enter a non-public place and subsequently cause injury and are due to be sentenced in June.