Soldiers died in Camp Bastion fire, inquest hears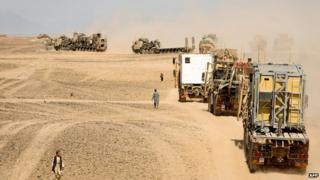 Two UK soldiers died in Afghanistan when a fire engulfed their tent as they slept, an inquest has heard.
Privates Rob Wood, 28, and Dean Hutchinson, 23 died in the blaze at a logistical centre at Camp Bastion in the early hours of 14 February 2011.
They were sleeping in a tented office so they could respond quickly to the arrival of essential supplies.
The two men were eventually identified by their dental records, the inquest heard.
The men - who served with the Royal Logistic Corps - had been on duty on the night of 13 February in the Transport Troop tent, the inquest in Salisbury, Wiltshire, heard.
The pair, along with Lance Corporal Sikeli Ratu who survived the fire, had been watching television in the tent until 3am before going to sleep, the inquest was told.
L/Cpl Ratu could smell smoke when he awoke during the night and managed to escape the fire, coroner for Wiltshire and Swindon David Ridley said in his opening statement.
"He shouted to Woody and Hutch to get out but there was no response", Mr Ridley added.
"L/Cpl Ratu states that he heard Pte Hutchinson call his name out but by this time the fire had taken hold and was all over the side of the tent and the entrance."
The inquest was told that, by the time firefighters arrived, only the metal tent poles remained of the structure.
Sparks and flames
Private Dennis Chhetri, of the Royal Logistic Corps, told the inquest he became aware of the blaze at around 05:30.
He was 400 metres away from the tent with a colleague.
"I was dropping off the load from the flight when we saw the sparks and flames coming out the tent", he said.
He raised the alarm and then saw L/Cpl Ratu.
"He was in a state of shock", Pte Chhetri said. "He didn't know what was going on."
Pte Chhetri said he did not know how long it took for fire crews to arrive.
But he said "it felt like a long time."
The inquest also heard that the commanding officer of the General Support Squadron had concerns about the "daisy chaining" of electrical extension sockets.
Lt Col Steve Cornell would carry out spot checks to ensure it was not happening, he said.
Pte Wood, from Marchwood, Hampshire, was a driver port operator and had become a father shortly before he died.
Pte Hutchinson was a driver with seven years service, He was from Spennymoor, County Durham.
The inquest, which is expected to last two weeks, continues.