Nigeria abductions: David Cameron defends offers of help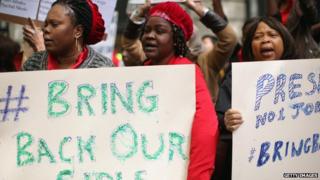 David Cameron has dismissed claims the global community is patronising the Nigerian government over its handling of the kidnapping of some 270 girls.
The PM was asked about comments from a Nigerian government spokesman who said criticism of the government's response was "unfair" and "patronising".
Mr Cameron said "we want to work with them to help".
Experts from the UK are helping the search for the schoolgirls kidnapped by militant Islamist group Boko Haram.
The UK has said a small team will provide planning help and advice on co-ordination to the Nigerian authorities.
Officials in the country have been criticised for their slow response to the kidnappings.
But Doyin Okupe, a spokesman for the Nigerian presidency, said the government had put a lot of things in place to find the girls.
He added: "I think it's quite unfair to talk down to a concerned government like that. It's really, really unfair. I take very, very serious exception to that kind of language and in such a very patronising way."
'Extremely difficult'
Speaking on BBC Radio 5 live, Mr Cameron said the UK government wants "to work with" Nigerian officials to help the search, saying the UK had offered help immediately after the abductions.
The schoolgirls were seized from their boarding school in the town of Chibok in north-eastern Borno state on the night of 14 April .
It is believed they are being held somewhere in the vast forested areas that stretch into neighbouring Cameroon.
Mr Cameron said it was "an extremely difficult situation" and said the decision to send UK experts to offer advice and logistical support came after a request from Nigerian president Goodluck Jonathan.
A spokesman for the Foreign Office said a team of experts would be visiting Abuja, the capital of Nigeria, to consider "what more we can do to support" Nigerian authorities.
Former UK Prime Minster Gordon Brown, who is now UN special envoy for global education, said he hoped there would be a "special push in the next few days" to help try to find the missing girls.
Speaking to the BBC from Abuja, Mr Brown said he was hoping to meet the President of Nigeria, adding that he felt the international effort was aiding the search.
His comments come as further protests have been held in London and Nigeria's main city, Lagos, on Friday about the kidnappings.
The abductions have triggered a growing social media campaign on Twitter, with the hashtag #BringBackOurGirls backed by public figures and celebrities.