Phone-hacking trial: Rebekah Brooks 'treated sensitively by police'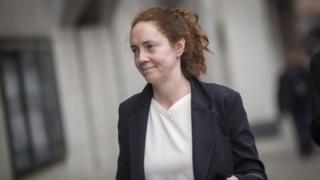 Police treated former News of the World editor Rebekah Brooks with "particular sensitivity" before her arrest, the phone-hacking trial has heard.
Closing the prosecution's case, Andrew Edis QC said Mrs Brooks got notice and had time to spend a day with her lawyer before being arrested in July 2011.
The former News International chief executive was able to arrange for items to be hidden, Mr Edis said.
She denies four charges related to phone hacking at the former tabloid.
Mrs Brooks is one of seven defendants, who all deny allegations linked to phone hacking, on trial.
In the second day of his closing speech, Mr Edis said Mrs Brooks was told in advance that she would be questioned and was given a "choice" of police stations.
She then spent a day with her solicitors before going, by appointment, to a police station in south London where she was subsequently arrested.
Mr Edis told the jury such arrangements did not "normally happen" - with most suspects arrested in a "dawn raid" then dealt with by the "duty solicitor" at the police station.
And he said Mrs Brooks "rewarded" this treatment by starting a "course of events" which resulted in computers and other material being hidden before police searched her London home.
'Hardly surprising'
Two bags containing computers and other material were hidden behind the bins in the car park at the Brooks's flat in Chelsea Harbour, where they were later discovered by a cleaner.
The hiding of computers led to Mrs Brooks, her husband Charlie Brooks and Mark Hanna, head of security at News International, being charged with perverting the course of justice, the court heard.
Commenting on an early-morning raid on Mr and Mrs Brooks's Oxfordshire home in March 2012, Mr Edis told the jury: "You may think it hardly surprising that they [the police] did not show the same sensitivity the following year when they went back.
"Hardly surprising that they did not want to allow any more material to go missing."
'Complete fool'
Later, the prosecution addressed allegations that Mrs Brooks authorised payments to a Ministry of Defence official for stories.
Mr Edis reminded jurors of a series of emails from 2006-8 in which a senior reporter from the Sun requested authorisation from her for payments for his "ace military contact".
He suggested Mrs Brooks's defence would have to be that it "never occurred" to her that this person might be a public official.
He told the jury they would have to think Mrs Brooks was a "complete fool" to believe that.
"But she isn't, is she?" he said.
Mrs Brooks denies conspiracy to hack phones, conspiracy to commit misconduct in a public office and conspiracy to pervert the course of justice.
All seven defendants deny all the charges against them.